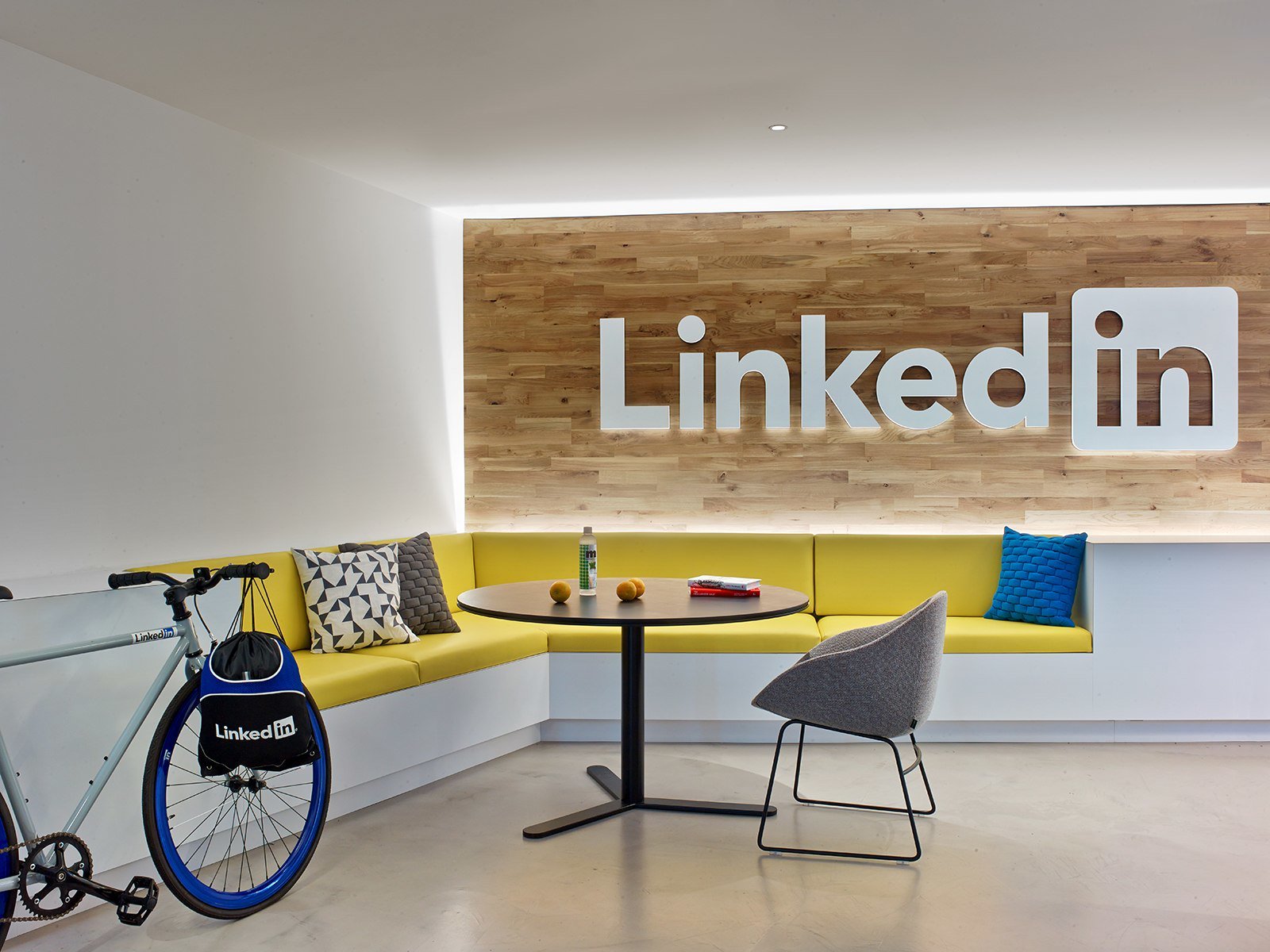 15 Covert Tricks to Optimise Your LinkedIn Profile for Search
6

min read
Use these 15 LinkedIn super user tricks to optimise your LinkedIn profile for search (both within linkedIn itself and externally via search engines like Google and Bing.)
Having a LinkedIn profile that's optimised for search enginesmakes good sense for both business owners and employees.
With a highly polished profile, you're more likely to:
Rank higher in search results, creating new opportunities and driving traffic to both your personal profile and your business or employer
Make new connections with people who are looking for exactly the skills you have, or who just love your unique combination of crochet and database administration skills
Impress your viewers, with the style and professionalism of your profile. After all, if your profile looks this good, you must be super amazing in real life!
By optimising your LinkedIn profile for search, not only will you rank well within LinkedIn, but you'll also start rocking it on the big G (that's Google BTW), and that's definitely worth shooting for.
So to make sure that you're putting your best foot forward, and showing up in front of exactly the right people at exactly the right time, here's 15 ways to optimise your LinkedIn profile for search.
1. Use Anchor Text in Links
Did you know that you can add up to three external links to your profile?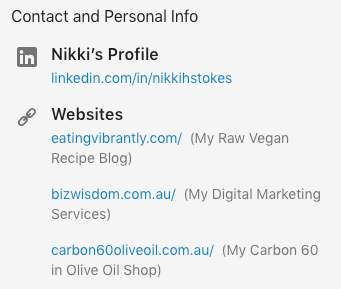 Make these work hard for you by linking to your business website, your employer's website, or your personal blog or website, if you have one.
And make sure you use the "Other" option when creating your links, so that you can create a keyword-rich title for your link, like "My Digital Marketing Services" or "My Handcrafted Jewellery Blog".
Access your Contact Info section by clicking Me > View profile and clicking the pencil icon next to the Contact and Personal Info section in the right hand sidebar.
2. Optimise Your Images
Until search engines can directly understand the content of images, we're going to need to give them as much help as we can.
So make sure that you name your profile picture with a meaningful, keyword-rich filename BEFORE you upload it. (You get extra brownie points for using a really nice, professional-quality profile picture as well.)
And be sure to use this trick to optimise the filenames of any and all images that you upload to your profile to get them working hard for you in search results..
3. Finish Your Profile
It's amazing just how many profiles on LinkedIn are incomplete. Some figures quote upwards of 40% of all profiles as missing key information.
So simply by completing your profile, you put yourself well ahead of the pack. Worth doing, wouldn't you say?!
Your challenge, should you choose to accept it, is to go through your profile with a fine-tooth comb and complete every single section. Use a great photo of you, polish your descriptions until they're gleaming and include samples and links to your work.
And whatever you do, don't leave any fields blank. If there's a field in your profile, find something to put in it.
4. Fill Out Your Skills
The skills section in your profile was created to help recruiters find people with specific skills, so as a result, it's highly indexed by search engines.
Make sure you add all of your relevant skills to your profile. Yes, even those finger knitting or ice-skating skills might just be the thing that gets your profile found by the right person.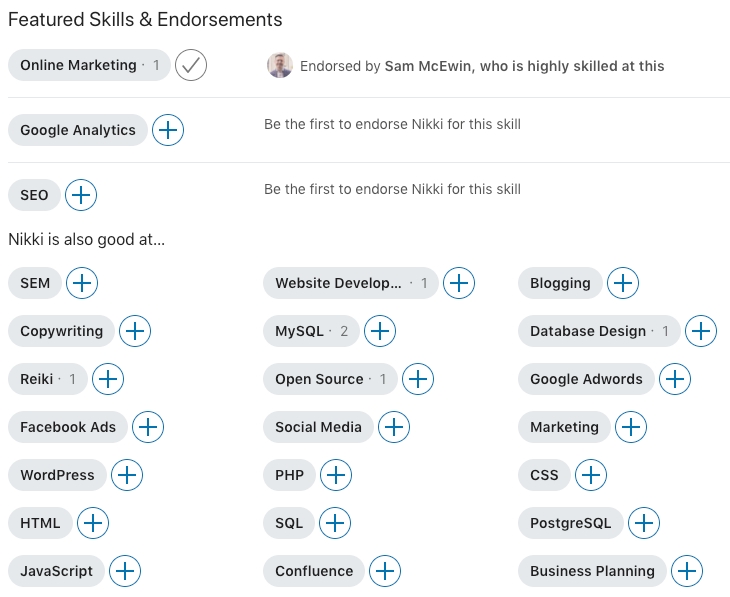 Take it one step further and feature your top three most valuable skills right at the top of your list, so they're what people see first about you.
5. List Your Current Business or Employer
Make sure your profile includes your current business or employer in your list of experience.
Not only does this help to raise the profile of the company in search, it also helps your profile look up-to-date and cared for.
Be generous with the information you provide here, painting a vivid picture of your role and responsibilities, and add (well optimised) images and other media to liven up your profile.
Be sure to include relevant keywords in the titles of your projects and publications as well.
6. Keyword-Optimize Your Headline and Job Titles
While you don't want to oversell your skills and roles, you do want to spice it up with some relevant keywords and personality to make it stand out, and rank well in search.
Include search terms, your industry and skills in both your headline and each of your past positions.
Use every single one of those 120 characters to grab people's attention and sell the value that you can offer.
7. Optimise Your Job Descriptions
Make good use of relevant keywords in your job descriptions, but also make them easy to scan and consume.
Remember, you're writing for people first and search engines second, so skip the big blocks of text and go for snappy bulleted lists and sub-headings instead.
Your future clients and employers will thank you!
8. Join Relevant Groups
Search engines crawl the names of groups on your profile, and then go on to share who you are and what you do in search results.
So join lots of topically relevant groups on LinkedIn, and for extra local SEO juice, join groups that include the name of your city or region e.g. "Melbourne Digital Marketers."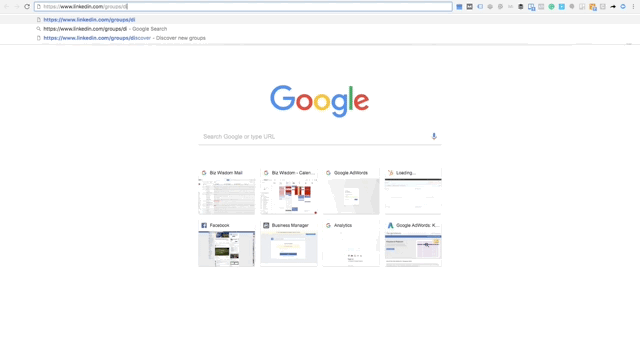 And remember to participate as well! Not only will search engines be able to find you more easily, so will your next ideal customer.
9. Expand Your Contacts
The more connections you have on LinkedIn, the more likely you are to show up in search results, so get networking.
Add everyone you meet offline to your LinkedIn network, and actively seek out local networking events to grow your connections. Search your email contacts to see if there are other people you can connect to.
Connecting with influential people with large networks will help your visibility on search the most, so grab those opportunities to connect with both hands when they show up.
10. Build Recommendations and Endorsements
Research suggests that having 10 or more recommendations boosts your profile's rank in searches, so get cracking!
There's no need to feel awkward when reaching out to others for their support. Remember that most people are more than willing to help out, and will probably be flattered that you even asked.
So seek out recommendations and endorsements, and be sure to give them generously too.
11. Claim Your Vanity URL
Give yourself an easy to remember URL by setting up your custom profile URL, or "vanity URL".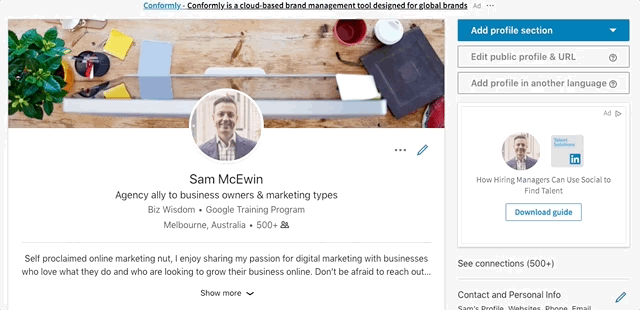 Make sure you include your full name, so that people can easily recognise you in search results.
It might not make a huge difference to your search rankings, but it's a heck of a lot easier to share and looks super sweet on your business cards.
12. Share More
It should go without saying that the more active you are on LinkedIn, the better you'll rank in search and the more value you'll get out of the platform as a whole.
Make an effort to share content regularly on your profile, especially of your own work (or your employers).
Create and publish posts as well, using LinkedIn Pulse, making sure to use relevant keywords in your titles, body copy and image filenames.
13. Promote Your Profile
Now that you've spent all this effort turning your LinkedIn profile into a well-oiled connection machine, make sure you tell the world about it!
Include a link to your LinkedIn profile in email signatures, on social media accounts and any other websites you're listed on. Put it everywhere. You've done good, so be proud!
14. Adjust Your Public Settings
Nothing would be sadder than realising your beautifully polished LinkedIn profile is only visible to you and your cat.
So do a review of your privacy settings to make sure that people can find you and your relevant profile in search, and contact you easily.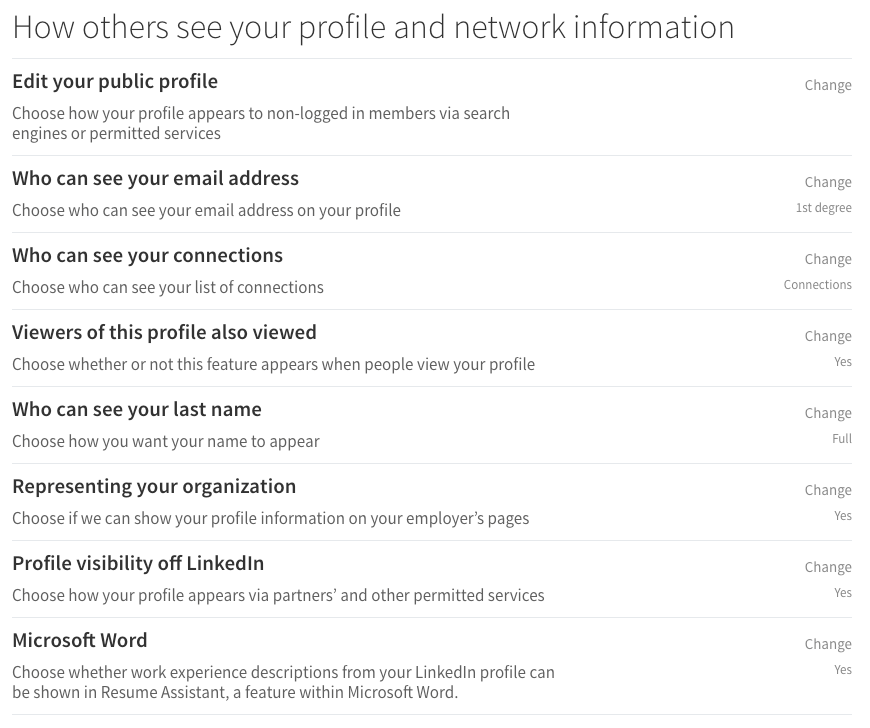 There's no point having a well-optimised profile if no-one can find it!
15. Keep it current
And don't go to all of this hard work to create the perfect profile only to leave it languishing in the dust, unloved and unwanted.
Make it a regular habit to check in on your profile to make sure everything is up to date. Who knows, you might just run into your perfect (business) partner on the way past..
Bonus Tip: Don't Keyword Stuff
While it's important to use relevant keywords everywhere you can in your profile, make sure it's natural and readable. No long lists of keywords please!
OK, you've worked hard to turn your LinkedIn profile into something to be proud of. Well done!
Now it's time to do a little happy dance and go and share it with the world.
Off you go!
And if you want a frank and open discussion about how we can help your business get found more easily in search, we're waiting for your call.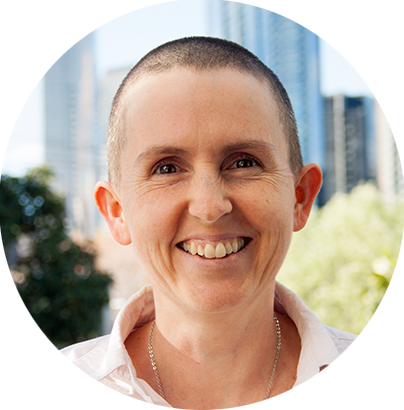 Nikki Stokes
Account Manager BizWisdom
Author Bio: Nikki gets fabulously excited about all things digital marketing, and loves tinkering with WordPress and messing with code. She has an eclectic work history that includes working as a research assistant studying reproductive health, running a small business selling tiny shiny computers, and sharing raw and vegan recipes on her blog. When she's not geeking out over her latest email automation sequence, you'll find Nikki at home hanging out with her family, whipping her veggie garden into shape, or watching movies with sci-fi themes, Hugh Jackman, or (preferably) both.
latest articles