2

min read
With the rapid development of digital display advertising in recent times, you might be excused for missing the new Gmail ad formats available through the Google Display Network.
Gmail can be a very attractive ad placement for advertisers due to its unique combination of high volume and ultra specific contextual targeting opportunities. This particular coupling allows advertisers to serve the right ad, to the right user, at the right time, with a degree of accuracy that is almost unrivalled by other display advertising placements.
Recently Google have made some pretty significant changes to the creative which can be served on Gmail. Taking advantage of these exciting new ad formats can provide some significant first mover advantages for savvy marketers.
In this post, Biz Wisdom's Sam McEwin takes a look at the new creative options available through the Adwords Ad gallery, as well as the world of possibilities enabled through custom HTML ads in this space.
Gmail Image Template Ads
The most basic Gmail specific ad available through the Adwords Ad Gallery is the Gmail Image Template ad. This simple, expandable ad unit allows for a short headline, logo placement and custom image. It works great for simple messaging, and a quick concise message supported by one clear visual cue.
Gmail Image Template Ad Collapsed Example
Gmail Image Template Ad Expanded Example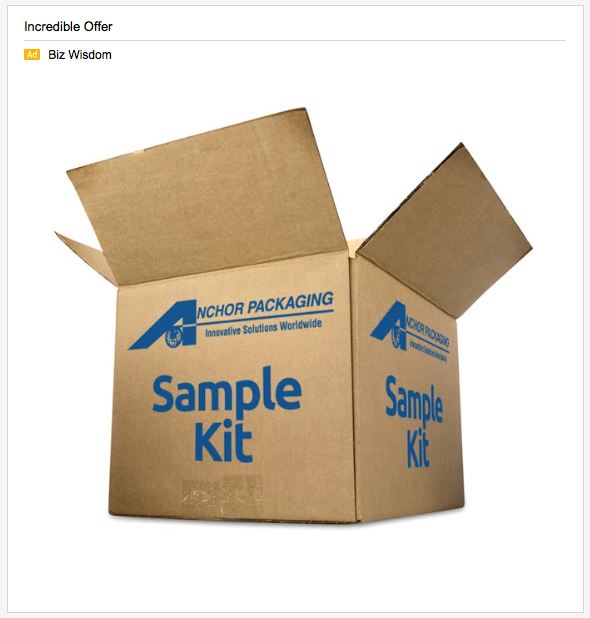 Gmail Single Promotion Template Ads
The Gmail single promotion ads expand upon the simple image ads with two extra lines of text – a headline and a description – and importantly a customisable call-to-action button which makes them perfectly suited to single product promotions or direct sales/leads promotions.
Gmail Single Promotion Template Ad Collapsed Example

Gmail Single Promotion Template Ad Expanded Example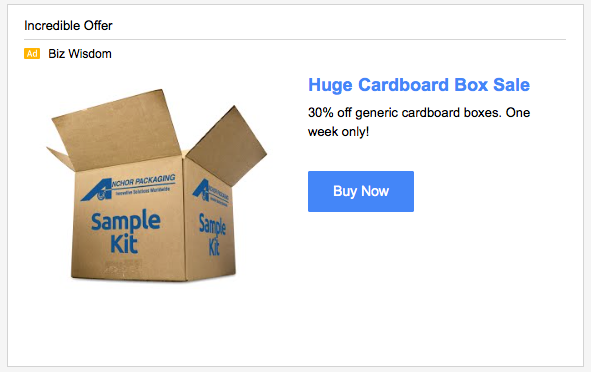 Gmail Multi-Promotion Template Ads
The Gmail Multi promotion ads are the most flexible and arguably powerful of the three template ad options available to Gmail advertisers. They expand further upon the single promotion template ads with space for up to 6 products, customisable call to actions and a header section which allows for a long description headline and hero image. The Multi-promotion ads lend themselves largely to retailers with multiple product lines, but can be adapted to suit almost any conceivable application.
Gmail Multi-Promotion Template Ad Collapsed Example

Gmail Multi-Promotion Template Expanded Example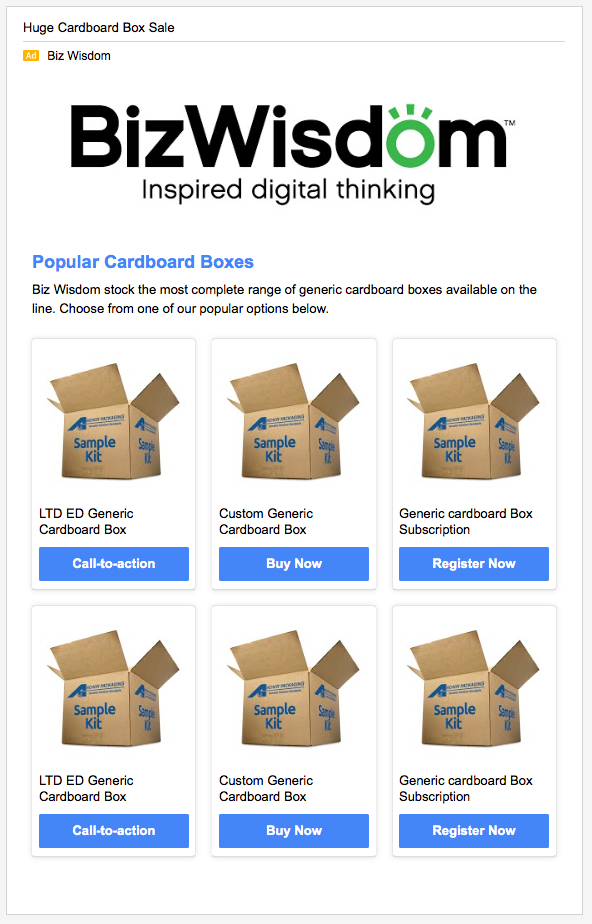 Gmail Custom HTML Ads
The final ad unit available is the custom html ad which provides almost limitless opportunities including imbedded images, videos and even inline forms within the expanded ad creative. While some basic html knowledge is required, as well as a not insignificant investment of time and potentially expense for those without in house web development resources, the end result is more than worth it. With custom HTML units, advertisers can effectively create mini-sites within the ad unit itself, delivering an immersive brand experience within the gmail environment and removing barriers to conversion that exist within standard display ad formats.
Gmail Custom HTML Ad Collapsed Example

Gmail Custom HTML Ad Expanded Example
To learn more about how gmail ad units might work for your brand, contact Biz Wisdom today
latest articles