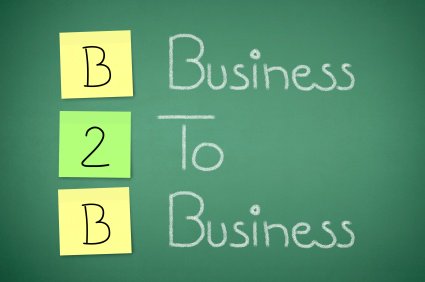 6 Never Fail B2B Lead Generation Strategies
5

min read
"Hey! Hey you! Come visit my site!"
"Click me! Click me! Click me! CLICK MEEEEE NOWWWW!"
"Come, my pretties, to my lovely sales funnel…it's so wonderful and shiny…"
The digital marketplace is a hot-bed of competition, with everyone trying hard to attract and convert as many leads as possible, and nowhere is this more true than in the B2B realm.
But, despite daunting competition, there's no need to despair.
We can slay online competitors, boost our sales, and become the leaders in our respective niches if we just use the right kind of lead-generating strategies (at the right time, of course).
To get on the right path to success, we've compiled a short & sweet list of our top 6 B2B lead generating strategies.
They'll not only help to draw more leads into your sales funnel, but will make converting them (and closing them!) a whole lot easier.
So let's jump right in!
1. Engage in Conversion Rate Optimisation (CRO) of Your Existing Website
Chances are, your website is already receiving some level of traffic. The average lead conversion rate of a typical B2B site is between 1-3%. That means of all the visitors currently reaching your site, only 1-3% of them make an enquiry; move the needle to 2-6% and you've just doubled your leads. It's that easy.
Use the following CRO techniques to make better use of your existing site traffic:
Optimise your forms: Long, complicated forms are a major lead turn-off. To stop people from disengaging altogether, make your forms as short as possible, capturing only the data which is truly necessary. If you need a slightly longer form, try breaking it up into sections. You can also place labels within fields, rather than on top of them, which reduces the amount of white space and shortens the perceived length of your form.
Clarify your CTAs: Each piece of content on your site must have a super-clear CTA (call to action). Don't confuse your potential leads with unclear CTAs, or with multiple CTAs in one piece of content. Follow the K.I.S.S. rule and use 1 CTA only per piece of content. Not only will your focus be clearer, but so will your leads! See our guide on writing an effective call to action for more details.
A/B Testing: Tools like Optimizely can allow you to test the impact that changes to your site have on lead conversion rates. Try changing the placement of your call to actions, the colour of your buttons, use active verbs instead of passive, or remove distracting visual elements – just to name a few.
Or check out these great resources:
The Definitive Guide to Conversion Rate Optimisation 
7 Principles of Conversion Centered Design 
2. Start an Inbound Marketing Campaign
Inbound marketing is the mother of B2B lead generation strategies, it's no quick fix though. Inbound marketing takes a deep, long-term commitment from everyone within your organisation, but the investment will be worth it in the end.
Inbound marketing works by nurturing your website's visitors through the sales funnel, moving them from a stranger to a lead, then from a lead to a prospect, a prospect to a customer and then finally from a customer to an evangelist. It typically uses sophisticated marketing automation tools such as HubSpot or Marketo to strategically move a site visitor through the sales funnel.
Whichever tool you use, your inbound campaign will start by developing buyer personas to identify your target audience and then apply principles of content marketing, call to actions, lead magnets, lead scoring, and email automation to nurture visitors through your sales funnel.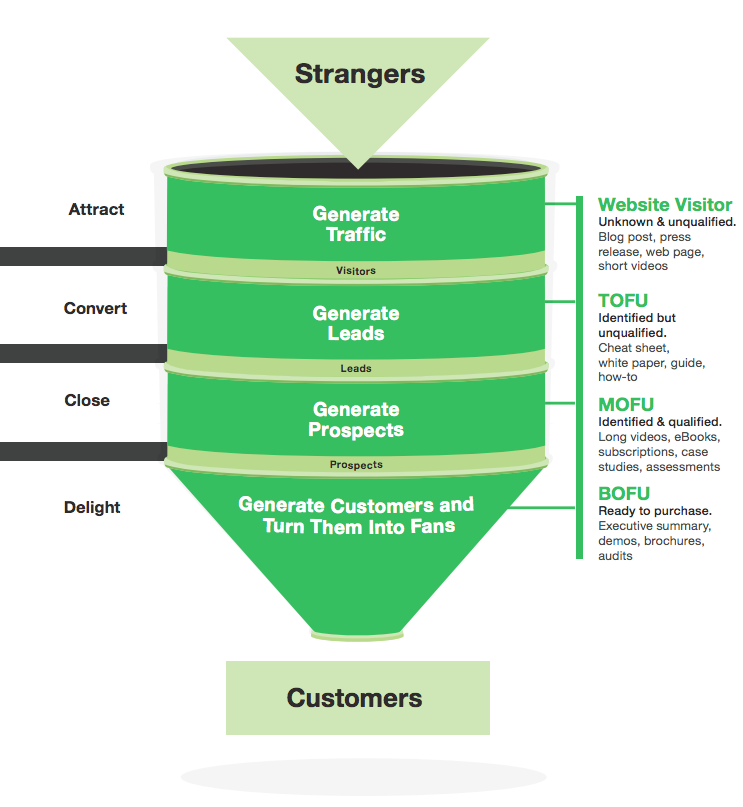 3. Create a Paid Search Campaign
Paid search is still one of the best lead generation strategies available and it is no less effective for B2B organisations. But beware, there are lots of hidden traps that can see your shiny new lead generation tactic turn into a not so impressive money pit. Use these tips to ensure that your paid search campaign is a tightly managed lead generating machine.
Opt out of display networks
Learn about keyword match types and start with exact match phrases
Use landing pages (SAAS platforms such as Unbounce, LeadPages or Instapage, are a great place to start.)
4. Hold a Webinar
Webinars are an excellent method of engaging leads, providing you with a way to interact with your prospects in an authentic way.
Not only do they give your leads a genuine "taste" of what you're offering them, but they're also useful tools for gathering further data about your customers (based on their participation, their interactions with the speakers, and so on) – enabling you to focus your services and hone your strategies even further.
To get started, try Hubspot's comprehensive guide to setting up and hosting your first webinar.
Or check out this one, provided by Smart Blogger.
5. Create High-Value Content
It's far easier to convert a warmed-up lead than a cold one, and a great way to stoke the fire is by creating high-value content.
By giving your leads truly useful, helpful information – and not just sales pitches – your leads will learn to turn to you whenever they need answers to their questions, increasing their trust in you, your products, and your expertise.
Set your organisation apart from the pack with high value content such as:
Ebooks or Guides
Templates or Presentations (posting presentations on SlideShare can be a great idea)
Prepare Research & Reports for your target audience
Create Kits (multiple offers packaged together)
Create Video Content (How To, explainer videos, customer case studies)
6. Join and contribute to LinkedIn Groups
The last strategy on our list involves getting your foot in the door of some high-quality LinkedIn Groups. LinkedIn Groups are virtual gold mines for B2B marketers, as they're packed with tons of high-quality, potential leads.
LinkedIn Groups let like-minded professionals get together to brainstorm and share things that are relevant, and useful. It's water-cooler networking, but without leaving your cubicle (or office, or building).
Do a quick search and make a shortlist of LinkedIn Groups that are in your industry or area of expertise. Join one for starters (you can add more as you progress) and start contributing your ideas and sharing your content (linking back to your site, of course) where relevant.
Build relationships with group members, and you'll see your site's conversions increase as news about your business spreads.
Take aways
In short, there are a myriad of surprisingly easy techniques you can employ in order to bump up your incoming leads. Which ones will you try?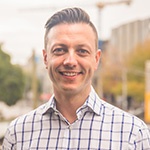 Sam McEwin
Director BizWisdom
Author Bio: Sam McEwin is the founder and Director of Melbourne based digital marketing agency BizWisdom.  Sam enjoys sharing his passion for data driven digital marketing with businesses who love what they do and who are looking to grow their business online.  Sam loves nothing more than nurturing client relationships and transforming ideas, no matter how big or small, into success stories.  Sam is a regular contributor to BizWisdoms' blog and guest speaker at digital media industry events and workshops.
latest articles