5 Tips to Help You Create Lead Generating Calls To Action
3

min read
Calls to Action (CTA) are the most powerful source that drive your audience to your offers. Your CTAs need to be bold and effective at capturing people's attention and convincing them to click. In the competitive digital landscape that your business operates in, it's critical that prospects choose your offer over your competitors and that your CTAs are designed to work.
In this article we will show you how to create click-worthy Calls to Action.
1. CTA Placement is Super Important
Calls to Action do best "above the fold" – the space where your web page is viewable to the user without having to scroll down.  According to heat map analysis, anything "below the fold" will only be viewed by 50% of people who visit your page. Doubling impressions on your CTAs can significantly increase your lead count.
Notice the placement of the primary CTA on the Freshbooks homepage. Two buttons for "Try it Free for 30 Days" stand out above the fold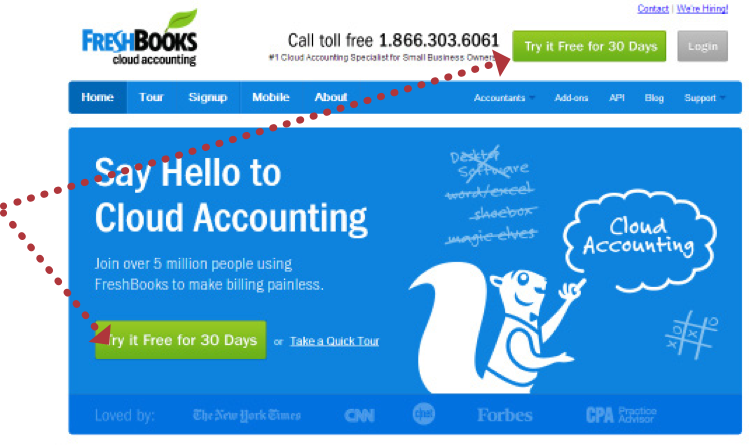 2. Be Crystal Clear About Whats On Offer
That is one of my favorite phrases. Often times, marketers will put more focus on being clever than clear. Be crystal clear about what offer is in your CTA. And be specific.
If you're giving away a free guide, say "Download our FREE guide to X." If you're hosting a free webinar, say Register for our FREE webinar on X. X should clearly convey a compelling benefit of receiving the offer. This is much more effective than "Download Now" or "Get a Free Article." These simply aren't specific enough.
Notice that this CTA is to promote a free ebook. There is little copy in this banner ad and a button that indicates it's clickable

Do you want to know how to apply these principles and more to generate more leads from your online marketing? Learn with our ebook "The 30 Greatest Lead Generation Tips, Tricks & Ideas!"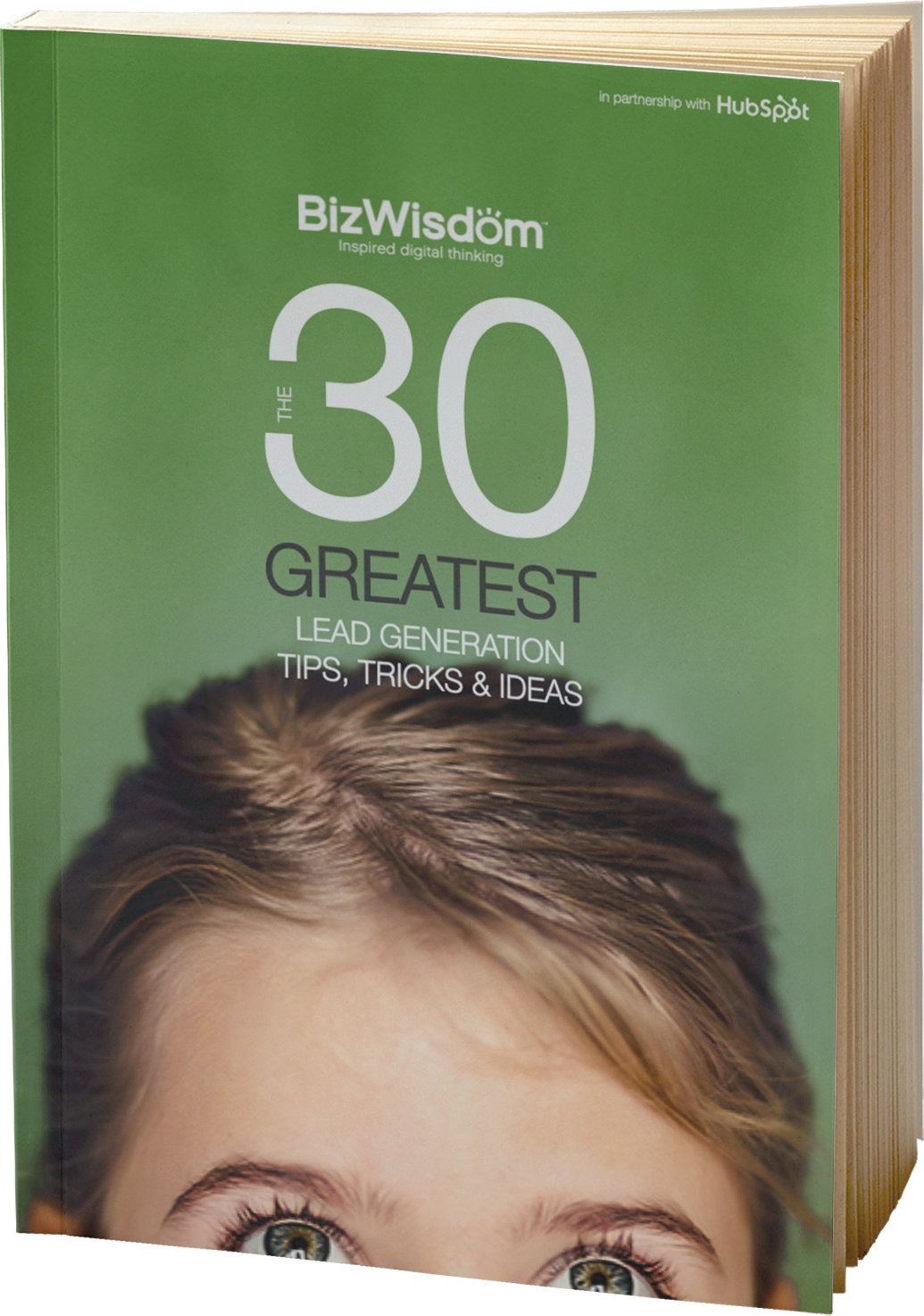 3. Use Contrast to Make Your CTAs Pop
A call to action is meant to stand out, so if your CTA blends in too much with your site design, no one will notice it. You want as many eyeballs to land on that call-to-action as possible, so use contrasting colors to make the CTA stand out, and more importantly, use design to make it clear it is a clickable call-to-action.
While Evernote has a beautifully designed website, the primary call-to-action for their free trial is somewhat buried because the button is the same color as the green background. It would be worth testing to see that if a different color – such as blue, red, or orange – would result in more clicks.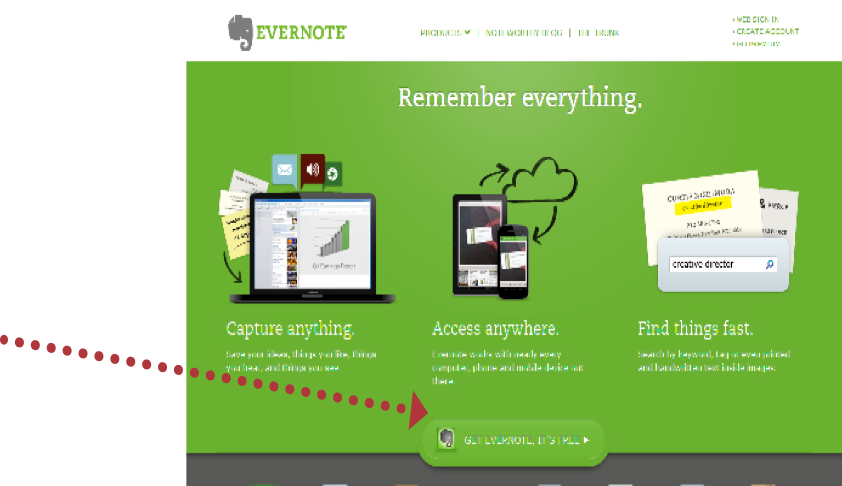 4. Do Not Use CTAs to Drive People to Your Homepage
This tip might seem minor, but it's incredible how often businesses miss this opportunity. Calls to action are meant to send visitors to a dedicated landing page where they receive a specific offer. Do not use CTAs to drive people to your homepage. Even if your CTA is about your brand or product (and perhaps not an offer like a download), still send them to a targeted landing page that is relevant to what they are looking for. If you have the opportunity to use a CTA, send them to a page that will convert them into a lead.
This CTA for a Twitter ebook drives visitors directly to a landing page for that ebook.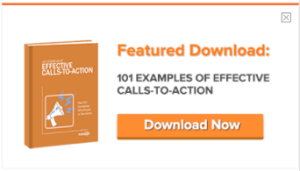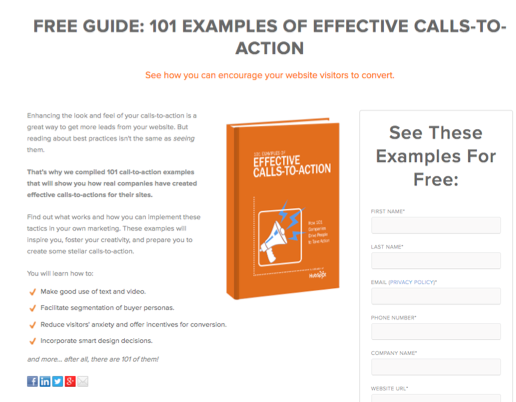 5. Promote Offers on Product Pages
CTAs shouldn't be one size fits all. If your company offers various products or services, you may want to consider creating a different offer for each of them. Then you can place CTAs linking to each offer on the website pages that are most relevant to that offer.
In this example, a CTA for "Start using HubSpot's SEO Tools" is placed on a product page. To generate more leads, they might also have a CTA for a "Free Guide to SEO," because it is related to the product offering.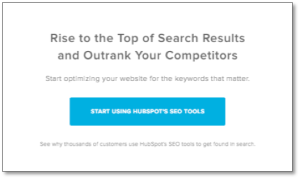 To discover more practical tips like these that will help you create a steady flow of leads, generate new customers and drive sales Download your free eBook: 30 Greatest Lead generation Tips, Tricks & Ideas.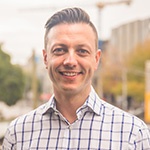 Sam McEwin
Director BizWisdom
Author Bio: Sam McEwin is the founder and Director of Melbourne based digital marketing agency BizWisdom. Sam enjoys sharing his passion for data driven digital marketing with businesses who love what they do and who are looking to grow their business online. Sam loves nothing more than nurturing client relationships and transforming ideas, no matter how big or small, into success stories. Sam is a regular contributor to BizWisdoms' blog and guest speaker at digital media industry events and workshops.
latest articles