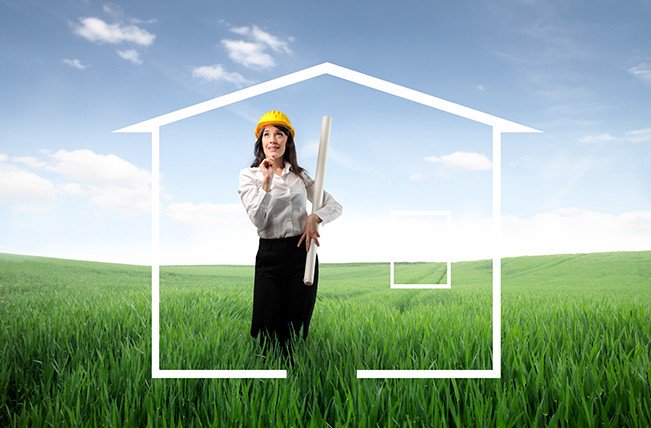 9 Surefire Lead Generation Tips for Australian Home Builders
9

min read
Competition within the Australian market for new home builders is fierce and with an increasing amount of consumer research now conducted online, well before ever coming into contact with your killer sales team, it's no surprise that the pressure to generate leads has never been greater. These 9 tips for Australian home builders are a surefire way to turn your website into a powerful, lead generating machine.
1. Develop an eBook or product brochure
Your customers don't just wake up overnight and decide to build a new home. Chances are that before a prospect comes even close to making contact with your sales team, that they have spent months or even years researching, anguishing and planning for their new build.
In days gone by, your prospect's first move might have been to visit display homes or speak with different builders as part of their research. But those days are gone. Today your prospects will conduct their research online, they may eventually still visit display homes, but before they do, countless builders will have already been crossed off their list and what's worse is those builders won't even know that they missed out.
So, how do you make sure that you don't face the premature chopping block? Simple, enable your prospects to conduct the research by providing product brochures, eBooks and research materials on your site. Creating one product brochure is a great start, creating multiple product brochures highlighting your build, finishes and other options is even better. Imagine your prospects with all your brochures laid out in front of them, circling elements sticking post-it notes on pages, you may not realise it yet, but you've just increased your sales funnel significantly and you now have a critical weapon in your lead generation arsenal.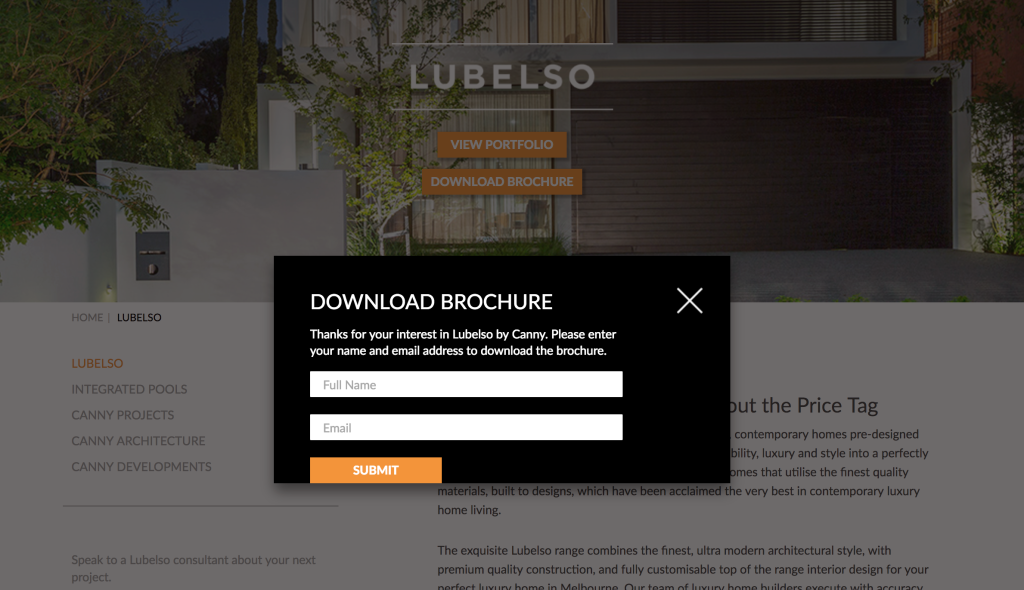 2. Develop captivating calls to action
Calls to action are the key to generating leads. It still amazes me how many companies waste thousands of dollars sending traffic to sites that don't include proper calls to action. Calls to action tell your prospects what actions you require them to take next, without them, your site visitors will be allowed to drift aimlessly throughout your site and will likely leave before they have taken action of any kind.
Our eBook "30 greatest lead generation tips, tricks & ideas" takes a detailed look at what makes the perfect call to action, but as a rule, every page on your site should have at least one. A better rule, each section of every page should end with a call to action.  Metricon Homes do a good job at this, their page for dual occupancy home designs features no less than 9 calls to action.  No visitor to their site is left wondering what to do next.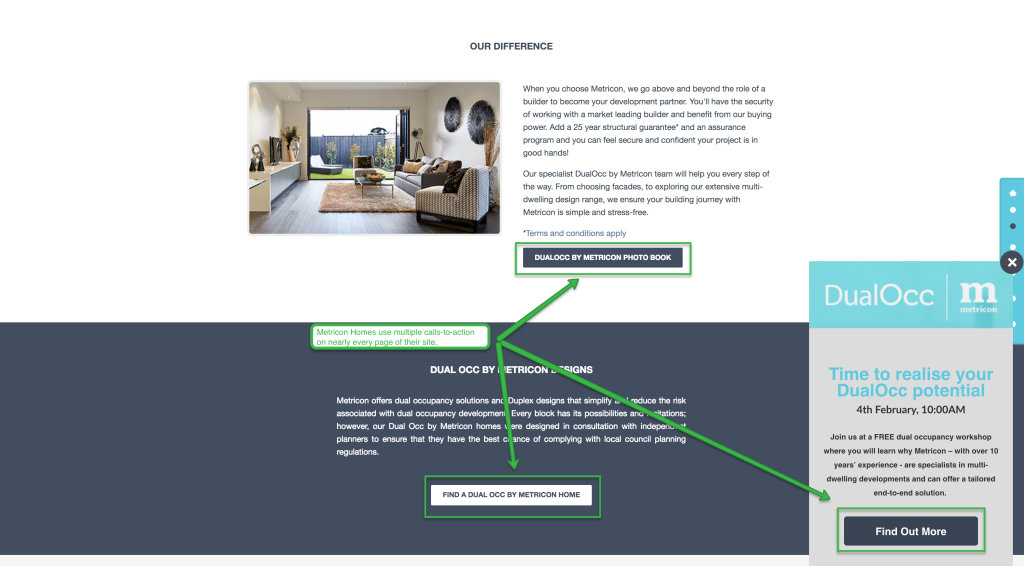 Metricon Homes use multiple calls to action on nearly all pages across their website.
3. Create a paid search campaign
There is still no better marketing channel for lead generation than paid search and this is no less true for new home builders than for businesses in other industries. Google Adwords is the obvious first step for most and it's relatively quick and easy to set up a simple campaign. Although you might wish to check out Dan Young's Adwords marketing tips, for some common traps to avoid if you are embarking on this yourself.
4. Create a Facebook advertising campaign
Facebook offers a plethora of advertising options that can boost leads for new home builders. In addition to demographic and geographic targeting features, they allow you to pinpoint prospects who fit your ideal customer profile. Facebook also gives you access to interest categories that allow you to target for example; renters, people interested in property investment or people who have recently become married. If you have a Facebook page, you can use Facebook's Audience Insights tool to quickly build an audience for your advertising campaign.
Facebook is a beautifully visual medium, so it's the perfect platform to show off your most stunning designs and don't be afraid to mix things up. The buying cycle for new home construction is a long one, so show off your full range of designs, feature your various eBooks and product brochures and balance heavy promotional messages with softer ads to recent blog posts. The more your prospects engage with your brand the higher the likelihood is that they will choose you over one of your competitors.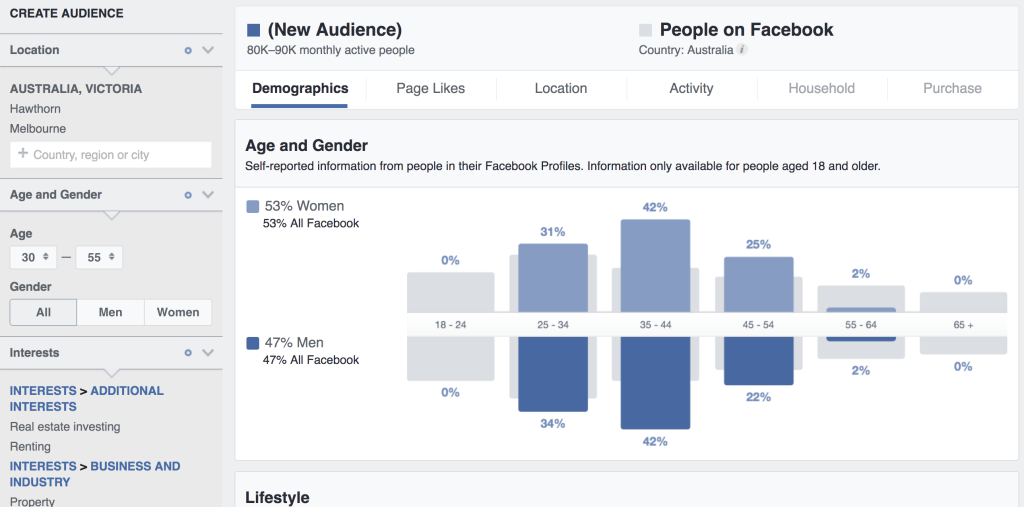 Do you want to know how to apply these principles and more to generate more leads from your online marketing? Learn with our ebook "The 30 Greatest Lead Generation Tips, Tricks & Ideas!"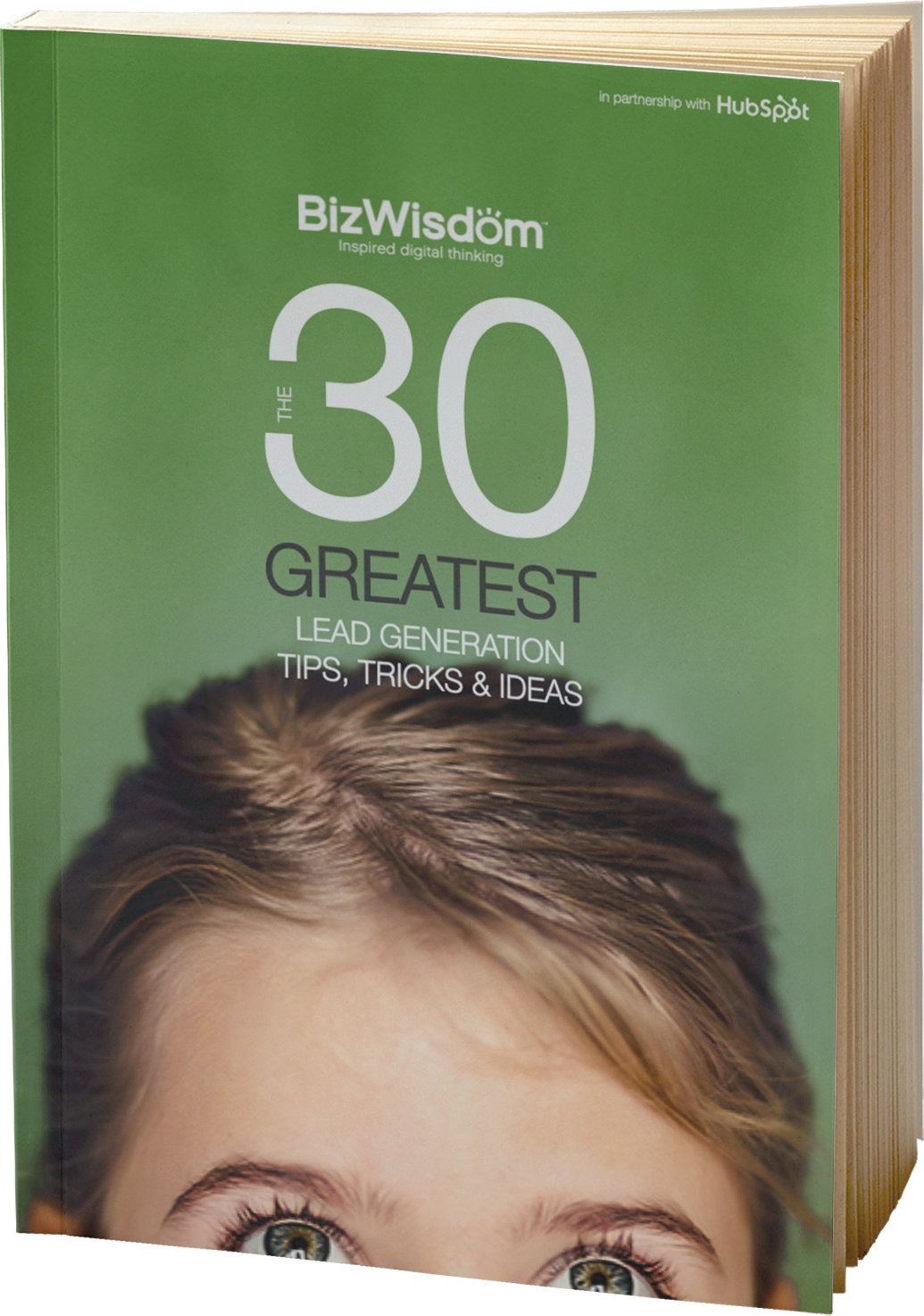 5. Send your paid advertising to a lead capture page
When you engage in pay-per-click advertising of any kind, it is critical that you use a purpose-built lead capture page in order to maximise the leads that you acquire for your business. This isn't the early 2000's any more, lead capture pages are no longer an optional tactic, they are essential if you want to achieve any kind of real return on your investment.
A complete guide to creating lead capture pages is contained in chapter 3 of our free guide Our eBook "30 greatest lead generation tips, tricks & ideas", but the Cliff Notes are as follows;
Remove the main navigation to avoid distractions
Make the landing page relevant to the ad or offer which attracted them to the page
Keep it simple. I always recommend including just enough information so that your prospect can have confidence that you can provide the solution to their problem, but not so much that they no longer need to make an enquiry with you.
Create a short summary that outlines the benefits of the offer, including what will they receive once they enquire.
Always be Testing! Test multiple variations, add and remove content, change the order of elements, and change imagery. Testing is the key to high-performing pages. Tools such as Unbounce, Instapage and Optimizely can help, but if you don't have access to these, simply creating two versions of a page and testing the performance of each page can go a long way to achieving fantastic results.
At the time of writing this post, we did a quick test for the keyword "home builders melbourne" and only one of the seven ads that were returned, made use of lead capture pages.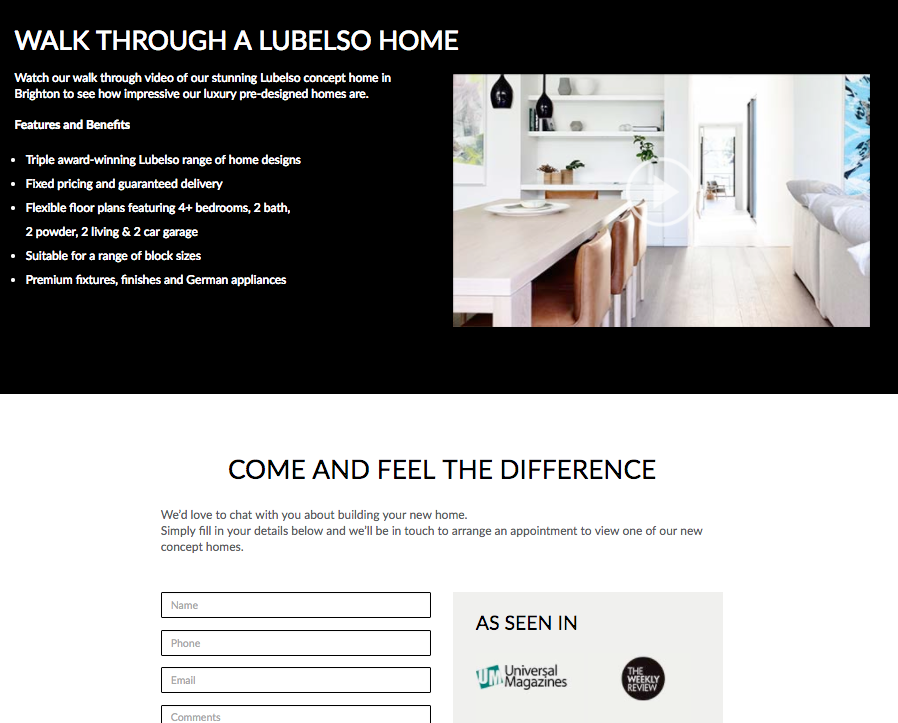 Luxury home builder Lubelso were the only advertiser making use of lead capture pages in our quick test.
6. Conduct an event or webinar
Conducting regular events or Webinars are one of the most powerful lead generation strategies for Australian home builders. Firstly a webinar or event creates an important, middle of the funnel mechanism, to capture your prospects' contact information. So, by simply holding an event or webinar of any kind, you will notice a dramatic increase in leads.
Secondly, high-value offers like events and webinars engage the law of reciprocity – made famous by Dr Robert Cialdini in Influence: The Power of Persuasion, which you can read about here. The law of reciprocity is simply this: when you provide a gift of some sort to someone, they will often feel uncomfortable and sense an obligation to return the gesture and will often do so in ways that far outweigh the value of the original gift. So, could taking the time to share a little of your knowledge with your audience really mean they will feel an obligation to build their new home with you? It's highly likely.
The third reason events and webinars are so effective, is that they position your brand as the expert. If you can solve enough of the challenges that your prospects face in the lead-up to building a new home, then their confidence in your ability to carry out the build is likely to increase. This also gives you a great way for your prospects to get to know you and your organisation before they make their decision. In a decision as important as choosing a builder, anything that you can do let your prospects get a feel for what it will be like to work with you, is likely to increase the chances that they will choose you as their builder of choice.
Finally, events and webinars can provide an elegant pathway for your prospects as they move from awareness, through to interest and into the decision-making and ultimately take action phases of the customer buying journey. As you will learn from our next tip, pathways can be a very important component of your lead generation strategy.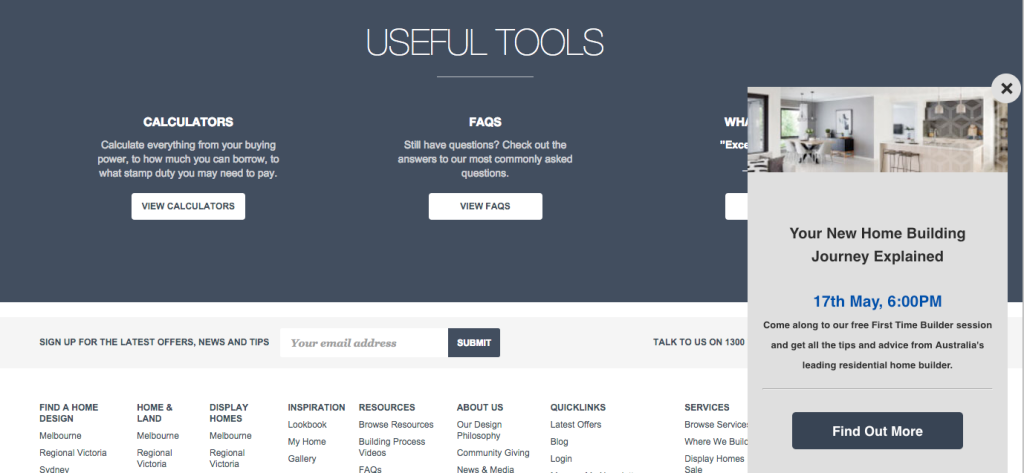 Metricon Homes make good use of events to convert their site traffic into sales-ready leads.
7. Use Email Sequences to Qualify Leads
If you've followed our suggestions to this point, then you will be directing high-quality traffic to your site, you will have developed powerful calls to action and created high-performing lead capture pages. Not a bad start. Email sequences or marketing automation are the keys to tying this all together and will be the difference between a great lead generation plan and one which operates 24/7, even while your sales team are asleep.
Using email sequences or marketing automation to nurture your prospects through the buyer's journey will allow your sales team to spend less time calling prospects who are not ready to hear from them and more time taking calls from those who are. Once you have developed your calls to action and bedded your lead pathways, it's a relatively simple step to introduce some simple sequences, to move your leads through the cycle.
Start by creating a list of prospects who have downloaded your brochure and send them an email that invites them to attend your webinar. Automate a follow-up email from one of your salespeople asking for feedback on the webinar for those that attended and then invite them to an exclusive event to be held at your new display home. Follow up with a consultation request or one of your other offers and keep engaging with your prospects until they are ready to speak to you about their new home build.
The more calls to action you have and the more you can understand and provide guidance to your audience as they progress through the decision-making process, the more effective this is likely to be.
There are a lot of great tools which make light work of email sequences such as Drip or HubSpot, but with a little bit of tinkering you can achieve similar results with existing email marketing tools such as MailChimp or Campaign Monitor. The tools matter less than the strategy and knowledge of your audience.
8. Use retargeting ads
Retargeting can be one of the most effective forms of online advertising available, by advertising to site visitors who leave without making a conversion. If you are already directing quality traffic to your site, you have strong calls to action, have converting landing pages in place and powerful lead pathways, supported by email sequences, then this power is multiplied significantly.
What you do with retargeting is up to you, but some suggestions for new home builders could include the following;
Target users based on pages that they have viewed on your site. For example, do you have a "knock down rebuild" page? Then you could target users with banners that promote your knock down rebuild services or better yet invite them to participate in a webinar on the topic.
Match the banner ads to your email sequence strategy. For example, you could show users who have not downloaded your brochure, an ad with a brochure download as the call to action. Or those who have downloaded your brochure might see an ad for your upcoming webinar and so on.
Use multiple ads to create a narrative about your brand, with each ad telling a different story about why a prospect should choose your business. This will make a big impact on the salience of your brand over time.
9. Leverage your email database
Email marketing has long been an effective way to reach a prospective audience and its impact is not waning in this era of social media. In fact, social media has brought with it new, powerful ways to leverage your email database to generate new leads. Twitter, Facebook and Instagram all allow for some way of washing your email database against their user list. Washing your database against their user lists in this way, allows you to build audiences, which you can use to target ads to on each respective platform.
Once you have created audiences on these networks, you can combine similar techniques to those outlined for retargeting and email sequences, to connect with your audience while they are using social media.
Final Thoughts
The new home builder market is a very competitive one. But as you have seen here, there are many techniques that on their own can be very effective ways of generating new leads. It's when they are combined though, that these techniques are most powerful and the good news for home builders in Australia at least, is that currently, no one has put all of these tips together effectively. So the opportunity is yours. All you need to do is take it.
Download your free eBook: 30 Greatest Lead generation Tips, Tricks & Ideas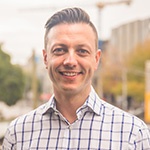 Sam McEwin
Director BizWisdom
Author Bio: Sam McEwin is the founder and Director of Melbourne based digital marketing agency BizWisdom. Sam enjoys sharing his passion for data driven digital marketing with businesses who love what they do and who are looking to grow their business online. Sam loves nothing more than nurturing client relationships and transforming ideas, no matter how big or small, into success stories. Sam is a regular contributor to BizWisdoms' blog and guest speaker at digital media industry events and workshops.
latest articles