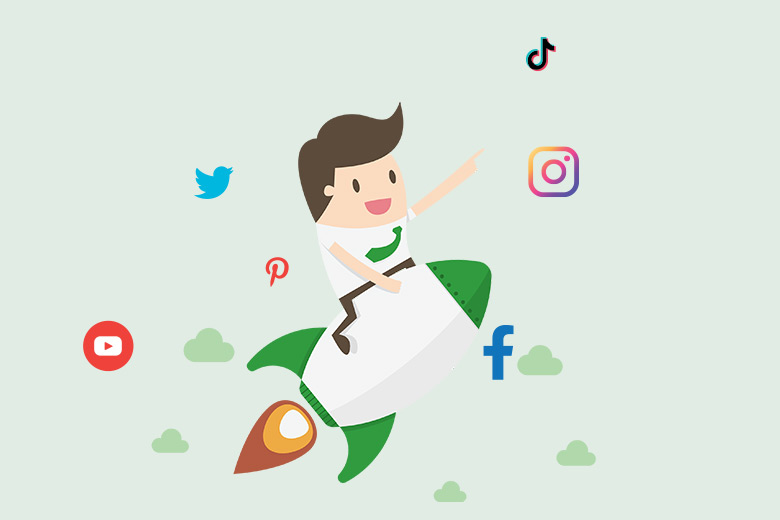 The ultimate social media marketing guide
60

min read
With the global number of total users expected to reach 5.17 billion by 2024, social media has become the largest gathering place in history for people to connect, share their stories and educate themselves on news and current affairs. 
But what is social media marketing? And how can brands embrace it in a relevant and meaningful way, so they can earn a seat at the table with social-savvy consumers?
In this definitive guide, we'll teach you how to incorporate social media into a holistic marketing strategy so that you can disrupt the consumer experience in the least intrusive way and build a community of followers who are not only receptive to your message but willing to share it on your behalf.
Social media is rarely a quick fix to reach your marketing goals. But if you can master the art of initiating and engaging in two-way conversations rather than pushing products, you'll be rewarded with invaluable relationships and insights that will build your community— and drive your business.
What is social media marketing?
Social media marketing is the process of using social media platforms such as Facebook, Instagram, LinkedIn, or Twitter to interact with customers, answer questions, announce new products and services, monitor competitors, get valuable feedback, and build community.
Social media marketers achieve this through a mix of paid advertising, organic posts, and community management but always with the following four key objectives in mind:
Listening to audiences
Monitoring online references
Providing customer service
Promoting a brand and its products
For social media marketing to be effective, it requires brands to thoroughly understand their target audience as well as the social media platforms they spend time on, so that their content is engaging but also supports broader marketing and organisational goals.
Why social media marketing is important
Often, social media marketers lose sight of the big picture and fail to see the importance of using social media as one element of a wider, data-driven marketing strategy.
Too many make the costly mistake of blindly jumping onto the latest trend, or thinking purely in terms of channel strategies. Beliefs like, "We have to post to TikTok because that's what the kids are doing these days!" is an all too common attitude that's sadly led to many wasted hours for minimal ROI.
The true importance of social media is only realised when it's placed in the framework of broader marketing parameters. In other words, "Why do we want to reach the kids on TikTok?"
Is it to monitor how they talk about you and your competitors so that you can improve your offering?
Is it to listen to and analyse what their interests are so you can understand which marketing strategies resonate with them?
Is it to increase brand awareness through micro-influencers who want to promote your product?
Is it to improve your customer service response times?
Notice how all these questions are built from the four key social media objectives we mentioned earlier:
Listening to audiences
Monitoring online references
Providing customer service
Promoting a brand and its products
These four objectives are the core of social media marketing and should shape every initiative that you undertake. By thinking in these broader marketing terms, your initial thoughts about posting to TikTok might now sound like:
"Well TikTok might be the new craze but because our organisation has the overall goal of increasing website traffic by 10% before the end of the year, Instagram and its 'Shop Now' functionality, which links to our website, might be a better channel to focus our energy on for today".
As we move through this guide and the different reasons why social media marketing is important, always return to these four key objectives. They are the framework that everything else should sit within, so refer to them regularly and keep them front of mind, always.
Your audience is on social media
Throughout history, marketers have naturally flocked to places where consumers gather en masse. From the earliest days of posting handwritten flyers in the town square, to newspapers, radio, television, and the internet – if there's an audience to reach, and a medium to reach them on, marketers will find their way there.
So when you consider that as of February 2023, 61% of the global population had a social media account and that 21 million Australians are active social media users, spending an average of 2 hours scrolling each day, it's easy to see why marketers are heading to social media to reach their target audiences.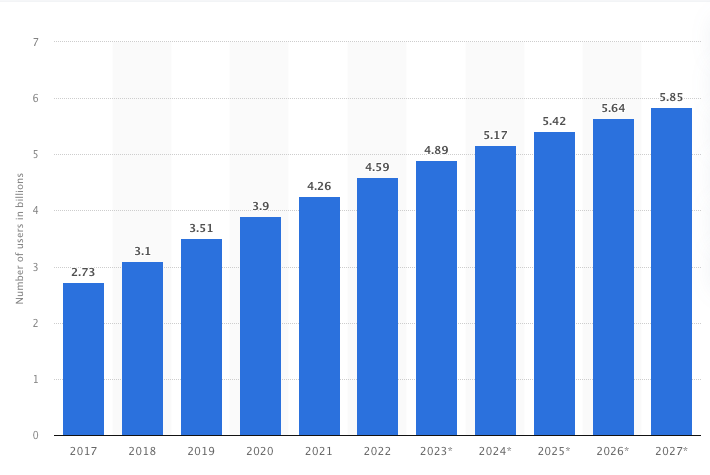 Social media use is now so prolific that brands are expected to be on at least one platform and responsive to the public almost 24/7. Emplifi recently found that 52% of consumers expect brands to respond to them in the first hour of connecting online, with a further 90% expecting a response in the first 24 hours. More importantly, when brands do interact, audiences expect the response to feel authentic and personal.
This is the key difference between marketing for traditional media— such as television— to marketing for social media. The power has shifted away from brands and their one-way messages directed towards a passive audience and into the hands of consumers.
The balance of power has shifted to the audience
In 2018, Baker McKenzie wrote that we are, "Running headlong into the end of the industrial era of consumption and into a consumer power shift". It's a powerful statement, but what does it mean? To understand the consumer power shift, you first have to understand how the sales process has evolved with technology. 
In the last twenty years, the internet has given consumers instant and infinite access to information.
This has shifted the power away from brands, into the hands of consumers. Brands now need to provide information when and where the consumer wants it in the format that they want it in, and that requires intimately understanding their behaviour patterns and the specific buyer journey that goes with each individual product and service that your brand provides— along with the needs of each audience type.
As you can imagine, doing this well isn't easy and there is a growing gap between consumer expectations and the ability for businesses to meet them. Today's consumer knows when they're being pitched at, obliterating the effectiveness of scripted and controlled flows of information and requiring marketers to transform how they view the role of the consumer in their business.
Rather than seeing consumers as an entity to be sold to, marketers must provide killer content that engages and ignites conversations, while embracing consumers as co-producers, who are respected for their power to jeopardise an organisation's reputation in the click of a button and celebrated for their ability to produce user-generated content and a massive amount of data offering insight into their lives and buying power.
Social media can result in higher conversion rates for brands that gain consumer trust
So if consumers are no longer responsive to social media as a broadcast communication channel, can it still be used to increase revenue? The good news is—yes— if you can draw an audience in and gain their trust, you can generate leads, drive sales, and produce a measurable ROI. In fact, 73% of marketers say their social marketing efforts are effective, if not very effective.
In Australia:
51% of consumers surveyed say they are more likely to trust a brand that creates a positive interaction on social media
54% put an emphasis on content that is engaging and relevant
53% of people say they trust a brand whose content is regularly updated
When you listen to your audience and start building trust and community through consistent and authentic social conversations, the magic begins. In 2021, around 68% of social media users bought something from social media. 98% of them planned to do it again in 2022. More than half of them are always ready to buy given the right circumstances. The main driving factor for their purchase? Trust.
Later in this guide, we'll show you how to hit the sweet spot where community conversations, paid advertising and optimisation help you reach your social media selling goals.
77% of consumers say they are more likely to buy from a brand they follow on social media over one they do not.
How many social media platforms are there?
Now that we know why social media is important, let's take a look at the different platforms and their features. Keep in mind that social media is always evolving. With every new generation of users, new players— such as the recent phenomenon TikTok— break through, shape and infiltrate their culture. Despite this, powerhouse platforms Facebook, Twitter, YouTube, and Instagram have passed the test of time and are almost universally recognised as staples in our personal and business lives.
In Australia, the ten most popular platforms by the number of unique monthly visitors are:
Facebook – 18 million
YouTube – 17.5 million
WhatsApp – 12 million
Instagram – 10 million
LinkedIn – 6.5 million
Snapchat – 6.4 million
Twitter – 5.8 million
Tinder – 4 million
Tumblr – 3.7 million
TikTok – 2.8 million
Globally there are more than 75 social media platforms, each with individual features that reflect the cultural norms of their users. This means there is no one-size-fits-all approach when it comes to social media. For example, only 9% of Meta users in Australia are over 65 years old, meaning if you're selling retirement units, you're not going to spend much time or budget on a trendy campaign on these platforms aimed at senior citizens.
Facebook
Audience: Millennials, Gen X, Baby Boomers
Best for: Brand awareness, advertising
With 2.9 billion active monthly users, Facebook is the third most visited website in the world after Google and YouTube. It also has the most thorough analytics tools for marketers and as the owner of Instagram, allows you to control both through one business account. If you're just starting out, the sheer size of Facebook's audience usually makes it the first place social media marketers focus on. It is important to note that Facebook has largely become a 'pay-to-play' channel as organic reach has declined. The average reach for a Facebook Page now sits at around 8% and is trending down each year. Despite this, because of Facebook's robust advertising options, 9 in 10 Australian businesses have a Facebook Business account.
Using Facebook Business allows you to:
Access to the most thorough analytics tools out of any platform
Engage consumers with Facebook Stories
Properly categorise your company for search
Use Facebook Ads, which you can hyper-personalise to suit your target audience
Access Facebook Groups, which are highly beneficial for driving brand engagement.
YouTube
Audience: Millennials, Generation Z
Best for: Brand awareness, tutorials, advertising
On top of being the world's largest video-sharing platform, Youtube can also skyrocket your conversion rate by 80%. Video is considered the best-performing digital content type when it comes to engagement, but the challenge for YouTube marketers is developing content engaging enough to cut through the over 500 hours of YouTube video uploaded every minute. 
For SMEs, the time and resources required to create compelling video content can be discouraging, but the results can be worth it. Experimenting with videos on your Instagram or Facebook Stories can be a good way to test out content before committing the concept to YouTube.
High-quality video on your webpage is great for reducing bounce rates and can earn you quality backlinks to help boost your SEO ranking
Consumers are becoming more interested in watching YouTube videos for purchasing inspiration. Eighty-nine percent of users say they buy a product after watching a video.
YouTube isn't just about watching videos. It's now considered the second biggest search engine after Google
Instagram
Audience: Millennials, Gen Z
Best for: Influencer media, behind-the-scenes, user-generated content, sponsored advertising
Instagram is the fastest-growing social media platform, with females aged 18-24 the largest group of users. For social media marketers, the benefits of Instagram marketing include:
Very high level of post engagement (higher than Facebook)
90% of the world's Top 100 brands use Instagram
87%of Instagram users take action, such as visiting a website, after looking at an Instagram advertising post with a 'Shop Now' or 'Book Here' CTA
Instagram is the home of influencer marketing which is on track to be an stood at approximately $24 billion in 2022
LinkedIn
Audience: Baby Boomers, Generation X, and Millennials
Best for: B2B advertising, business development, thought leadership and recruitment marketing
LinkedIn marketing is all about building connections and growing your brand through word of mouth. This is particularly useful if you're B2B or are trying to position yourself as a thought leader in your industry. The benefits of using LinkedIn for social media marketing include:
LinkedIn engagement has increased by 30%, year over year
LinkedIn is great for brand advocacy from within. Employees are 14x more likely to share content from their employers than other types of content on LinkedIn
96% of B2B marketers use LinkedIn for organic social marketing
Regular organic posting is essential for effective LinkedIn marketing. Businesses that post weekly generally gain followers 5.6x faster than those that don't
Twitter
Audience: Millennials, Gen X
Best for: Public relations; customer service
With over 400 million users, Twitter is a popular tool for businesses to connect with and inform their customers. One of the main benefits of social media marketers is Twitter's effectiveness in reaching your audience for free. The benefits of using Twitter for social media marketing include:
74% of Twitter users reach out to the brands they follow on the platform for customer support
Ads appear on the news stream, leading to higher engagement rates
Twitter is good for creating brand identity
Twitter works as a search engine tool to search for your competitors and their marketing content to see which tactics they're using
Twitter is great for giving quick, real-time updates on your company and relevant news to your industry
How to develop a social media strategy
Now that you understand why social media marketing is important, as well as the different platforms you can use to reach your target audience, it's time to start creating a social media marketing strategy.
Being thorough in your strategy is essential for success, with marketers who proactively plan their projects 674% more likely to achieve their goals than those who don't. Building a quality social media strategy takes time – but the more research, data, and creative thinking that goes into the initial process, the better quality your output, efficiency and overall success will be.
While the two terms are often interchanged, a social media strategy is different from a social media plan. The best way to think about it is that your strategy is the big picture thinking telling you where you're going and the plan is the steps you need to take to get you there.
The 5 W's of social media marketing
The first step to creating a social media marketing strategy is questioning why you want to do it in the first place. Discovering your 'Why' can be a big task, but is easier when you break it down and map out your 5Ws:
Why am I doing this?
Who is my target audience?
What actions do I want my target audience to take?
Where should I post my social media content?
When is the right time in the customer buyer's journey to provide this information?
Why: setting goals and KPIs for social media marketing
Every business has a set of organisational and departmental goals that they're heading towards. As a marketer, it's your job to know what these broader goals are and consider whether social media can help support them. There are numerous strategies for doing this but a good starting point is to use the SMART goal system. This will give you a framework to ensure that every single initiative you undertake has a purpose and will truly benefit your organisation.
SMART goals refer to the five elements that make up an objective. They are characterised by being specific, measurable, achievable, realistic, and timely.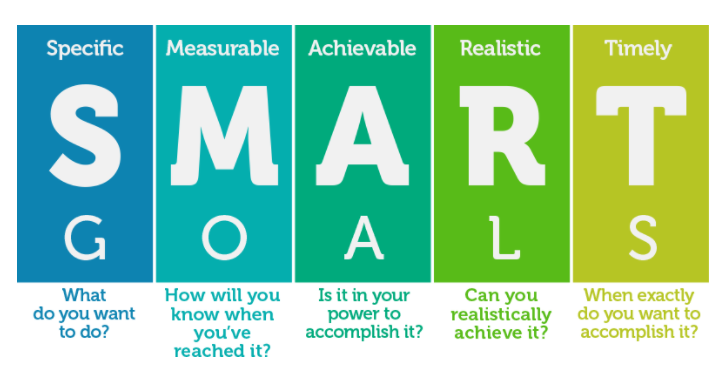 For a goal to be SMART, it can't just fit one or two of the elements—it must achieve all five. To understand what that looks like, let's take a look at some SMART goals in action.
SMART goals in action
If your brand is preparing to launch a product to market, a high-priority organisational goal might be something like:
"Sell 500 units by Jan 20, 2024"
If you're a marketer trying to support this goal, what social media SMART goals could you come up with to help support them?
A few examples might be:
"Drive 3,000 consumers to the product webpage by June 19, 2023"
"Respond to 100% of social media product reviews within 24 hours of being posted"
"Provide the Product Team with 3 data-driven consumer sentiment reports by August 20, 2023"
Notice how they address all five elements of a SMART goal. Each example is highly specific, gives a timeframe for completion, and can be measured and tracked throughout the period of the campaign. They also all support the organisational goal of selling 500 units of product. Because of this, you can track relevant data, measure your progress, and report your success to the team.
Social media goals
So what social media marketing goals should you aim for in 2023? While every organisation is different, these are the most common social media goals marketers set:
Increase brand awareness
Drive traffic to the website
Boost engagement
Generate new lead opportunities
Increase sign-ups
Build a community around your brand
Provide customer support
Provide PR opportunities (mentions in the press or other websites)
Listening for social media mentions of your brand
Who: Understanding your audience
If you don't have a thorough understanding of the people you are trying to reach on social media, how can you expect to engage with them in a meaningful way? Knowing your audience allows you to put customer needs before your own, and therefore provide them with content that resonates, and reflects their tone of voice and culture.
There are billions of people in the world, so it's impossible to get to know everyone individually. This is why marketers try and find common traits within their target audience and use these to categorise them into segments—also known as buyer personas.
A buyer persona is a detailed description of a fictional customer who represents the key segments of your target audience. It's a visual and written representation that gives marketers a better understanding of their behavioural traits, pain points, goals, and buying patterns.
To get started, conduct a series of interviews with a cross-section of your audience or contacts. Your aim is to reveal as much qualitative data about your audience as possible, so the more market research you can do, the better.
Important information to uncover includes:
Demographic information: age, gender, location
Occupation: current job title, industry, career aspirations
Influences: what influences the decisions they make in life and when making purchases?
Pain points: what challenges are they facing in their career, family, and everyday life?
A single 29-year-old male who lives in the inner-city with an entry-level position in finance will have a different data set to a middle-aged female business owner in the agricultural sector.
Once the data is collected, create persona cards, and hang them in your office or have them readily on hand to refer to.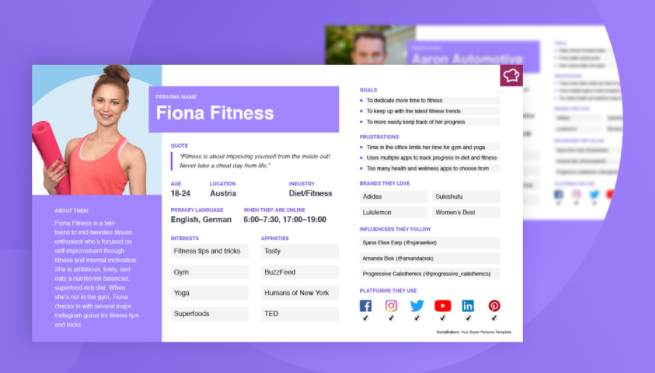 On top of helping you understand your target audience better, persona cards have a secondary, but equally important purpose— they help you develop your brand's unique social media persona.
What: What am I going to share? The importance of establishing a social media personality
Establishing a personality for your brand is essential for reaching and engaging with your target audience. We learned earlier that brands have to be invited in by active audiences for social media marketing to be effective, which means that the language you use and the personality you cultivate have to match the culture of the group you're trying to engage with.
It's not enough to just establish that personality. It has to remain consistent in language, tone, style, and regularity so that the audience who has let you into their world can trust you and know what to expect when they interact with you.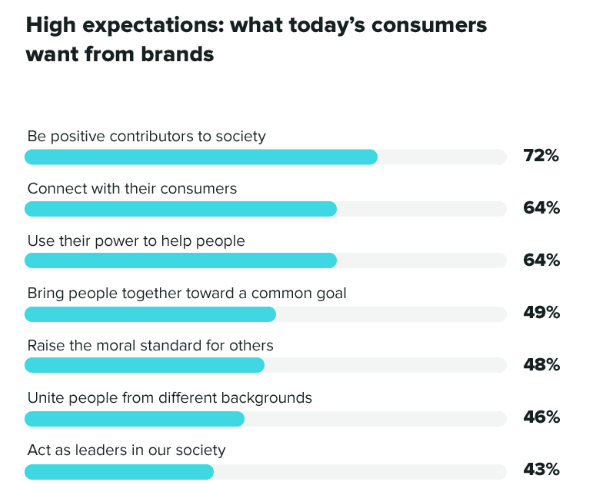 In general, consumers want brands to behave with the same qualities we seek in friendship. A consistent demonstration of transparency, amicability, and helpfulness in language that is understandable and relatable.
The building blocks of a brand's personality include:
Visual style
Tone of voice
Brand representatives
Consistency of posts
Let's have a look at two skincare brands, Go-to Skincare and Kiehls, who both compete in the same market. Both are sold at a mid-level price point, are designed for both mature and young skin types, and claim to take a 'no-nonsense' approach to skincare in terms of marketing, ingredients, and packaging. Surely with all these similarities, the two brands should be hard to differentiate. Yet look at how the use of language and visual styling has created two distinct personalities.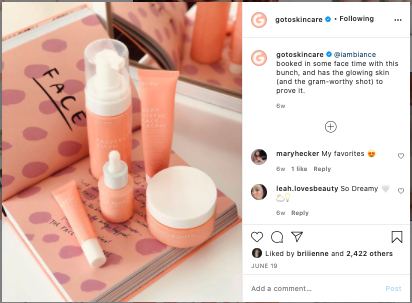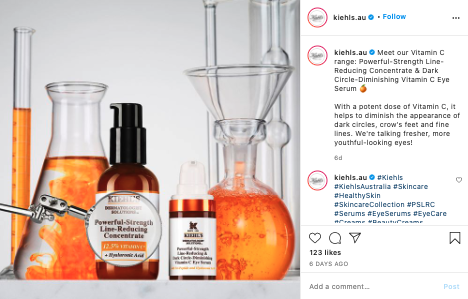 While both Instagram posts are promising healthier skin from using their products, notice how Kiehls present a brand personality that's scientific and ingredient-focused, while Go-To doesn't mention any of their ingredients, instead focusing on aesthetics and clever language puns. This hasn't happened by accident. Both brands have invested in extensive market research to create their persona and develop their unique tone of voice.
Tone of voice
Your brand's tone of voice represents the personality and values of your company.
It's built through language cues such as how you write captions, interact with followers, and even the choice of words or emojis you use.
When consumers feel they connect emotionally with a brand, 65% of them believe that the company cares about them, giving you a chance to build trust and provide solutions to their problems.
Consistency is key—once you've developed a brand personality it's important that it's adhered to across all channels. Your voice should always be distinct and steady but keep in mind that your tone may change depending on channel, content, and audience. For example, a post to LinkedIn on the subject of market conditions will have a different tone to a Facebook post promoting a fun online giveaway.
When/Where: Choosing the right channels for the job
Without a social strategy, it's common for brands to make the mistake of responding reactively to channel trends or trying to be on every platform at once. Precious resources are stretched trying to juggle multiple unnecessary accounts, which ultimately leads to reduced results and overall frustration.
Taking a data-driven approach and being realistic about your team's capacity is key to social media success. If you're a small team, start by focusing on the one channel where your audience is most active or where your research tells you the highest ROI for your efforts will be.
Often this will be Facebook, but not always. Hubspot's 2023 Social Media Trends Report survey shows the platforms that social media marketers found to have the highest ROI in 2023.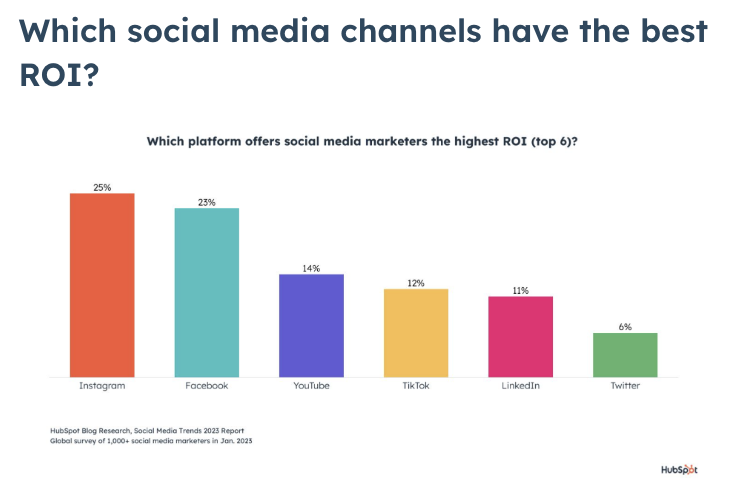 Keep in mind that this data skews depending on the industry. For example, fashion brands, who rely heavily on visual cues and the "community" influence of belonging to a group or imitating celebrities has made Instagram essential for creating desirability and driving sales for both high end and fast-fashion brands. As with everything in social media marketing, it's all about researching and understanding your audience so you can meet them where they are.
Where does your audience hang out?
Most social media channels will supply you with a breakdown of their target audience and other useful analytics. If you're not sure where your intended audience is, deep-diving into these free tools is a good place to start. You should also:
Survey your customers – ask them what content they like to consume, and which channels they prefer
Read industry reports – The internet is full of research that can help you understand the latest social trends relevant to your industry
See what channels your competitors are using – Which channels are getting good engagement for your competitors? This is a good indication that the same could work for you
User-generated content
We know that in social media marketing, authenticity is king and that brands need to build trust with an audience for it to be successful. We've also learned that modern consumers are less receptive to traditional marketing tactics, meaning marketers need to facilitate two-way conversations if they wish to differentiate themselves from competitors.

This environment has paved the way for user-generated content (UGC) as a key element of many social strategies. UGC refers to content that's been created by a brand user rather than a brand itself. UGC occurs when a user:
Comments on a brand's posts
Tags a brand in a post
Shares a product review or testimonial
Reposts a brand's content
Creates their own content featuring a product or service
The reason UGC makes such an impact is simple. Consumers trust the opinion of other consumers. The top three reasons social media users buy online are:
Friend's recommendation
Comments or product reviews (tie with familiarity of the brand)
Significant other's recommendation
People trust people—not ads. If your friend, family member, or someone you look up to recommends a product or service, their opinion is going to hold clout in your decision-making process because you know that there's (most likely) no ulterior motive behind it. 
UGC doesn't just influence us when it comes from people we know, either. Humans are wired to respond to any type of social proof, as part of a natural phenomenon known as the power of persuasion. If we see other people enjoying a product or service, we instinctively believe that it must be desirable.
In other words:
The benefits of leveraging UGC in your social media strategy include:
Boosting social media reach and growth – when consumers interact with your social content their networks are exposed to your brand, building awareness and desirability
Gaining an insight into your audience – UGC gives you a chance to gather data on the content audiences are interacting with and responding to. You can use this information to improve products and services as well as craft future marketing strategies
Creating brand champions – If a consumer goes out of their way to tag, mention or make content featuring your brand, they need to be celebrated. By responding to them with a friendly comment or sharing the content they created, they're more likely to advocate for your brand, become a repeat customer and as a result, influence their network.
Building your content library for free – while there are different legalities around who owns the content that's created for a brand, in general you will need permission to share any content a user creates for you. In saying that, most users want their content to be shared and are more than happy to help you build a library of free content that you can use for brand promotion!
UGC rarely happens by accident. Brands encourage it through campaigns, competitions, clever copy, and influencer marketing. If you're considering including UGC in your social media strategy, you need to think about which initiatives will naturally complement your brand personality. Let's take a look at how two different brands have successfully leveraged UGC through social media.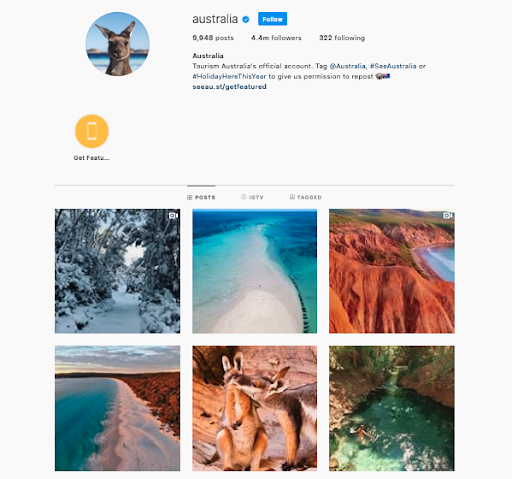 Tourism Australia is globally recognised as a leader in user engagement. Capitalising on Australia's natural beauty, they've run successful UGC campaigns across Facebook, YouTube, and Instagram.
A great example is their iconic See Australia campaign that began in 2015. Their marketing team tracked 1,500 pieces of content that were being shared through the hashtag #SeeAustralia on social media daily.
Cleverly, they decided to 'own' the hashtag, and rally travellers around it by bringing them into the Tourism Australia conversation. They asked their audience to start using the hashtag with the promise of promoting the best submissions to millions of Tourism Australia social media followers.
Around this idea, Tourism Australia launched a series of UGC campaigns, resulting in a 30% increase in site engagement.
When international tourism was hit by COVID-19, Tourism Australia tweaked their strategy and started promoting a new hashtag, #HolidayHereThisYear to encourage Australians to continue the momentum.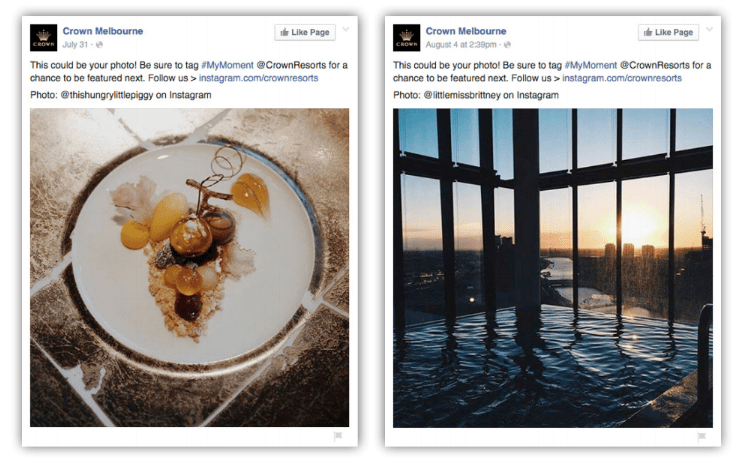 Crown Resorts show how UGC can be incorporated into paid advertising or sponsored posts, as well as organic content. In 2018, they introduced a Facebook Ads campaign, in which guests were encouraged to take photos of their Crown experiences for the chance to feature on their ads, which were consistently updated to give users more of a chance to be featured.
This helps Crown in five ways:
Peer recommendations build trust with an audience
They also build desirability – "I'll have what she's having"
It encourages two-way communication between Crown and their audience
It provides Crown Resorts with a content library, saving them the cost of professional photography and content creators
It's timely – because the content is being consistently updated, the latest offers, menu items, and events are also promoted
As a result of this UGC strategy, Crown Resorts reported 21% lower CPM, a 25% increase in positive sentiment, and 40% more impressions.
How to encourage user-generated content on social media
User-generated content is social media marketing gold. So how can you encourage your audience to start creating it?
Create a buzz around your brand by directly engaging with your audience— this could include giveaways, teasers or a creative marketing hook
Start a competition and make sure that it's a strong enough incentive for people to enter, and share with their network
Create branded hashtags that are distinctive, relevant and easily searchable
Reward engagement by replying to comments and sharing their content
Ask questions designed to spark conversations, encourage humour or play on people's nostalgia
Although there are many positives to UGC, it's important to know that it comes with a set of potential risks. When you hand conversations about your brand over to the consumer, it becomes harder to control the direction those conversations take. Many businesses have learned the hard way just how easily a well-meaning UGC campaign can be derailed by negative feedback, trolling, or misuse of the original intention.
This makes doing your research, being diligent in your social media listening, and keeping hyper-aware of public sentiment essential for avoiding disaster.
Nearly 80% of people say UGC has a high impact on their purchasing decisions.
Creating a social media marketing plan
"A goal without a plan is just a wish" – Antoine de Saint-Exupéry
So far, the work that you've put into your social media strategy should have provided you with an idea of where you're heading and a framework to get there.
You should be able to identify:
Why social media marketing will be beneficial for your brand
Who your target audience is
What your brand personality will look, feel and sound like
When and Where you should post, depending on your capacity and resources
With these in mind, it's now time to start working on the steps needed to reach these goals— and this is known as your social media marketing plan.
Step 1: Identify and prioritise your objectives
By now you should have identified a set of social media SMART goals that align with your overall business objectives. You may have only uncovered one or two, or perhaps you have a long list of goals and no idea where to start channelling your energy.
Just as being on too many social channels at once can reduce efficiency, trying to achieve too many objectives in one go is equally unadvisable if you don't have adequate time or resources to dedicate to them.
Therefore, prioritising your SMART goals should be the first step in your social media marketing plan.
Identify the most urgent business goals
Understanding your biggest pain-points and challenges will help focus your priorities. Communicate with your leadership team and other areas of your business to rank your SMART goals based on:
Timeliness – what upcoming launches, events or product developments require social media resources
Customer pain-points – Your brand is only as good as your customers' experience with it. So, what aspects of the user experience can you improve through social media?
Business challenges – What is the biggest challenge that your brand is currently facing? If you are a new brand, this might be something like a lack of brand awareness
Do-ability – Do you have the resources and ability to address this objective right now?
Impact – Will the outcome of this objective have much impact on your brand? Is the payoff equal to or higher than the effort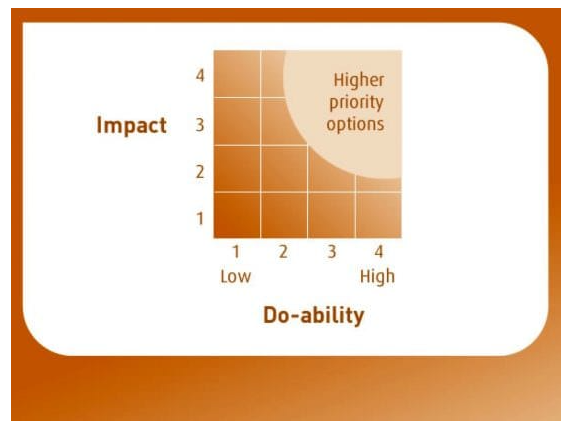 Once you are happy with the ranking of your goals, divide them into three groups:
The must-haves
The nice to haves
The implement laters
Keeping these groups in an ongoing spreadsheet allows you to move things around and update them as priorities inevitably change. But for now, you only want to focus on the 'must-haves'.
Allocate resources
One of the biggest misconceptions about social media marketing is that it's free. In reality, the people, time, and resources that go into an effective social strategy are far from it— so knowing how to allocate resources for your objectives efficiently is essential. Getting this right can take some trial and error as you get a feel for people's capacities and what is or isn't working. If you're just getting started, work out:
How many people do you need and in which roles?
What business processes are required?
How much time do we have?
Should I outsource to an agency or freelancer?
Step 2: Consider which social media channels will be used for each objective
Deciding on the right social channel for your objectives can be determined by three questions:
What channels are my audience already using?
What's the desired outcome of my objective?
What content format will best relay my message?
If you can't explain why or how a particular channel will help you achieve your goals, then it shouldn't be included in your plan.
What channels are my audience using?
Now it's time to revisit the buyer personas you created for your social media strategy. Which social channels are your personas using or likely to be using?
If you already have an established social media presence, use a social media listening tool to better understand them and their social habits.
Which channels will help me reach my objectives?
Knowing what you want to achieve from each objective will help determine the social channels worth pursuing. While there is no one-size-fits-all solution, below are some general rules of thumb that can help you:
Brand awareness – Choose a well-established platform rather than anything new or niche. You may want to consider including paid promotion in your plan, so choose a platform like Facebook which has proven advertising ROI. Instagram is a good choice if your target audience is millennials or younger
Lead generation – Using Facebook's 'Groups' feature to attract and build a community around your product or industry is becoming an increasingly effective lead generation tactic for both established and upcoming brands. Twitter and Instagram are also considered useful lead generators depending on your industry. If you're a B2B brand, LinkedIn's advanced filters and the ability to join in discussions make it an excellent way to make strategic connections with valuable players
Customer service – Twitter is considered one of the best tools for customer service. Part of this is out of necessity, as the immediacy of Twitter makes it easy for consumers who are looking for quick answers or ways to vent their frustrations. The positive for businesses is that they can resolve these with immediacy as well. If you have the resources to respond. The good news is that Twitter has inbuilt features designed for customer service and reducing response times.
Step 3: Conduct a social media audit
If you have an established social media presence—however small or inconsequential—you have to perform a social media audit before you begin creating new content.
A social media audit is a process of compiling important information about your social media accounts in one easy-to-read spreadsheet, so you have a clear understanding of how to improve your results in the future.
A social media audit shows you:
The assets you currently have in your content library
What social media tactics have and haven't worked in the past
Which profiles are worth keeping, repurposing, or removing
Any new opportunities to grow and engage your audience
How to conduct a social media audit
Your social media audit should include a combination of manual auditing and the use of a tool like Google Analytics to help you truly deep-dive into your metrics.
The first step in your social media audit will be tracking down all your social media accounts. This includes any that may have been created long before you or your team were around, and may have been abandoned at some point. This might take a bit of detective work, so speak to established staff members, search the internet and don't be afraid to ask questions about why these accounts were abandoned.
Make sure that your existing accounts are on-brand and match the style, tone of voice and visuals you identified while working on your social media strategy.
Identify any posts that did well and look for patterns. This could include video vs text, tone of voice, or the time posted
Check your findings against the audience demographics you uncovered in your buyer personas. Is the content and the channel consistent with the needs of your different audience segments?
Identify which channels you need and begin standardising ownership of each, either individually or in teams
Creating your social media audit spreadsheet
Now that you've uncovered all this rich data, it's time to start creating a spreadsheet template. It doesn't have to be complicated but it should include the following fields:
Your social handle and profile link
Any tagline or bio text for the account
Common hashtags used on each channel
The "owner" of the channel (who is responsible for posting and managing content)
The SMART goal or goals the channel is supporting
Date of the most recent post (to help you identify underused/abandoned accounts)
Number of posts published
Engagement metrics such as click-through rates, etc
The top three performing posts in terms of engagement
Number of followers
Here's an example of how your social media audit spreadsheet could look:
Performing a social media audit isn't a one-off exercise. Use this initial experience to develop an audit cadence that works for you moving forward. This could be monthly, quarterly, or twice-yearly depending on your capacity. The more you reflect on and track your progress, the more insights you'll have to help pivot future social strategies, and achieve optimal results.
Step 4: Set up your social media content calendar
A content calendar is a visual workflow that social media marketers use to schedule work over a specified timeframe. They help you track the types of social content you post, the channels you post on, the authors and 'owners' of each post, as well as the dates for publication.
Your content calendar is potentially your most important tool as a social media marketer. It allows you to oversee your social media strategy, ensure consistency, plan for upcoming events, avoid reactive posting, and can even automate some of your work.
Most importantly though, it keeps your social media strategy focused. When you have a roadmap telling you where to go, you're less likely to be distracted by 'shiny object syndrome' or get stuck trying to think up content ideas that likely have no relevance to your SMART goals.
Just like your social media audit spreadsheet, your content calendar doesn't have to be over-complicated. There are plenty of content calendar tools available to help you, but you can also use a simple spreadsheet.
An effective social media content calendar spreadsheet might look something like this: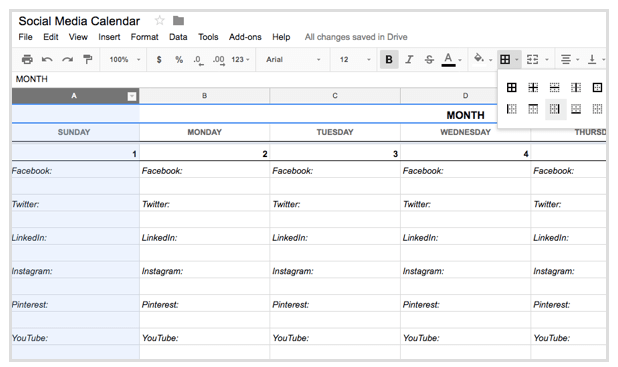 Social media monitoring
Social media monitoring is the process of actively looking for mentions about your brand online. It could include conversations about your product or industry, hashtags, employees, competitors and even your customers.
While social media monitoring is important, especially for identifying any potential crises or opportunities, the true power in social media monitoring begins when you start to track, analyse and respond to those brand mentions. And this is known as social media listening.
Social media listening
Social media listening is the process of tracking, analysing and responding to online conversations about your brand, industry or products. The benefits go beyond just understanding and responding to consumer sentiment, it provides rich data that allows you to identify any red flags, and pivot your strategy based on your findings. 
Social media listening is so integral to businesses that 82% of them consider this strategy to be a key element of their marketing plan.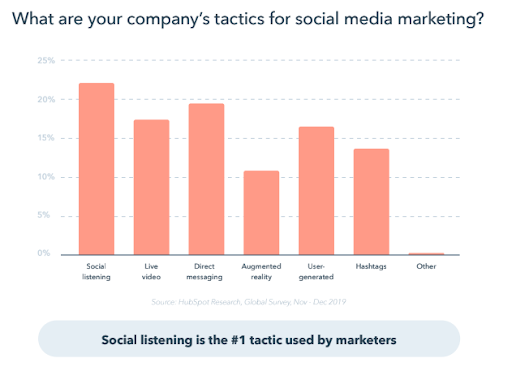 The power of social media listening
Social media listening benefits almost every area of your business. It finds root causes behind the social conversations that you monitor online and allows you to implement long-term strategy changes.
Social listening also helps you identify what type of content your followers are receptive to, helping you to come up with new ideas based on industry trends. Because social media listening involves actively engaging with customers, it also gives social media marketers an opportunity to improve the overall customer experience your audience has with your brand.
Social listening lets you analyse and measure the results of your content or social campaigns
Social listening lets you manage brand reputation by responding to consumer complaints and turning the tide on negative conversations
Social listening helps you identify your biggest fans and find influencers to promote your brand
Social listening helps you get feedback and find gaps in your services
Social listening allows you to track your competitors and spot opportunities to improve on their offering
If a marketer tried to do social media listening manually, not only would they be unable to find all the conversations happening around their brand or industry, they wouldn't have the time to implement any of their learnings.
This is why it's advisable to implement one of the many good social listening tools that are available to help you keep track of more data and identify the most important information.
Social media listening tools
Social media listening tools use algorithms that identify conversations pertaining to your brand online, and then display the data in an easy to understand interface. This saves you countless hours, gives you useful analytics to work with and allows you to prioritise any potential crises that need to be addressed.
Some useful social listening tools include:
Using social media for customer service
A key area of social media marketing is customer service. When consumers have an issue or question that requires a quick solution, over 60% will use social media to reach out, with the expectation that their customer service needs will be met.
If you fail to leverage customer service to your benefit, consumers tend to escalate their concerns. This could include posting negative comments about you online, telling friends and family members about their poor experience, or losing trust in your brand completely.
This makes creating a brand persona that is helpful, responsive and proactive to customers' needs, an important goal for any business.
To ensure your customer service initiatives are best practice:
Reply to any queries, complaints or reviews as quickly as possible
Be mindful of which social media posts should be resolved in a public forum and which should become private
Make sure your customers are heard—acknowledge every post, review or check-in
Don't cut and paste responses—address everyone by their name
Even when faced with negativity, keep your responses as positive and helpful as possible
Eighty-nine percent of companies that practise above average social care have been enjoying higher revenue than their competitors. To ensure that your social care efforts are on track for similar growth, it's best practice to introduce what's known as a service level agreement (SLA). An SLA is simply an agreed amount of time to get back to every customer care enquiry, setting expectations and helping to measure and track your success as a team.
Using social media as a promotional channel
It's easy for marketers to fall into the temptation of only using social media as a promotional, broadcasting tool.
As we've learned so far in this guide, this mentality only leads to disappointment. Consumers are too empowered by information to be receptive to pushy sales messages, with 45% of users saying that they will unfollow any brand they believe to be sending too many promotional messages.
So instead of one-way sales messages, marketers have to find creative ways to interact with consumers in a manner that feels authentic and adds value to their lives.
So how can social media be used to promote a brand without being overtly sales-y? Every brand's approach should be different depending on your industry and audience. But some ideas to help get you started include:
Facebook quizzes that entertain the user and uncover valuable data for the brand
Giveaways and contests
'Behind the scenes' of your business livestream
Tutorial or 'how-to' videos that are sharable and not product-specific to your brand
Audience polling
Partnering with another brand for a campaign
Sharing helpful tips and advice
Turning customer testimonials into short videos or posts
Hosting an 'ask me anything' session
Inviting an expert or industry influencer to do a social media takeover or your accounts for the day
Some of these ideas won't be suitable for your brand, but when you think outside the box and find ways to offer value to your target audience in exchange for their time and attention, you will be on your way to creating a social media promotion strategy that will get you results. To understand why, let's take a closer look at the modern customer decision-making journey.
Understanding the customer decision-making journey
Today, the customer journey progresses through five distinct stages: Awareness, Initial Consideration, Active Evaluation, Closure and Post Purchase. Rather than turning to a sales consultant for guidance or advice, today's customer is empowered to discover their own information at each stage of this journey. This means that as marketers we need to provide information (such as social media content) to assist the consumer and gently nudge them toward our brand.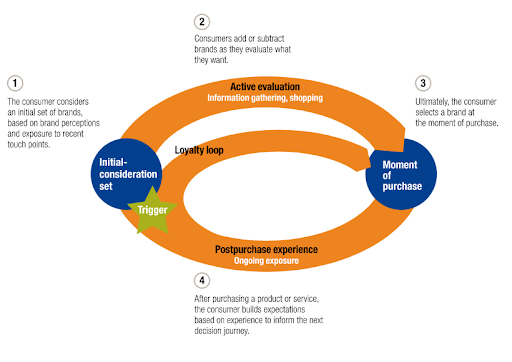 Because the consumer holds the power, and because they are exposed to thousands of marketing messages every time they open a social media platform, brands have to work extra hard to capture and hold their attention during the Brand Awareness and Initial Consideration stages of the customer journey. But this doesn't mean acting like a huge billboard that bombards them with marketing messages.
Instead, social media marketing requires brands to produce content with the sole purpose of engaging audiences. If your social media posts don't start conversations, invite opinions, entertain, visually please or emotionally connect with consumers in a way that provides value and encourages interactivity, they will fail to cut through the noise and likely be overlooked or unfollowed.
Let's take a closer look at how social media marketing can be used at each stage of the consumer journey.
Social media marketing and the awareness of a need
Often, consumers don't know that they have a need for your product or service until they are presented with its existence. This process of discovery is known as the awareness stage of the consumer journey.
So how can you make consumers aware that they have a need and begin to plant the seed that your brand is the one to solve it?
The answer is producing—and amplifying— great content. Imagine for example that you came across an article on Facebook titled, "5 tips to avoid coffee-stained teeth." The article just happens to be written by dental hygiene manufacturer 'Timmy's Toothpaste', but this isn't made obvious to the consumer who's now more concerned about their coffee and dental hygiene habits than the author of an article.
The consumer starts a conversation with themselves that sounds like: "I love coffee! Are my teeth stained? How can I overcome this problem? Do I need to invest in a teeth whitening system?" This is a perfect example of awareness stage social marketing content in action.
Awareness stage social media content should:
Be educational, help answer questions, and solve problems
Avoid "sales-y" language, overt branding, jargon and overly complex ideas
Have enough information to resolve initial concerns
Position the value of your brand without directly selling your product
How social media marketing can influence initial consideration
"Brands in the initial-consideration set can be up to three times more likely to be purchased eventually than brands that aren't in it" – McKinsey Consulting
Before a consumer starts researching different solutions to the problem they've just been made aware of, a subconscious mental process takes place that is crucial in determining the end purchasing result. This is known as the initial consideration stage of the customer journey.
Let's use our Timmy's Toothpaste example to show how it works. As the consumer, you've just been made aware that your smile could be less than desirable, but you're not quite sure what to do about it.
Subconsciously, this event will kick start a thought process around teeth whitening solutions that might look something like:
'I know that Colgate makes toothpaste but do they make a teeth whitening kit'
'I saw an Instagram influencer spruiking Hi-Smile once, I wonder if they're any good? '
'That article I just read included a great video of Timmy's Toothpaste working well on stains, and the article was really informative, so I trust that Timmy's could be a good option'
As you can see, before the consumer has even opened a search engine, they have an initial set of brands in mind. Why is this important? Because this initial consideration set determines the brand research they will undertake next, and has been proven to influence the outcome of the eventual purchase. When a brand can make its way into a consumer's initial consideration set, they are 3x more likely to be purchased than brands who don't.
Therefore, as social media marketers, it's important to consider Initial Consideration in your planning processes so that you can influence the consumer through accumulated experiences formed from touchpoints such as advertisements, top of funnel social media content and brand experiences.
Notice how being exposed to Timmy's Toothpaste in the awareness stage helped push them into the initial consideration set? Well, now the consumer will move Colgate, Hi-Smile and Timmy's Toothpaste into the active evaluation and closure stages of their journey.
Using social media during the active evaluation & closure stages
81% of shoppers conduct online research before they commit to a brand and close the sale. This is known as the active evaluation stage of the buyer's journey, and is where consumers look to their peers, educational content and eventually, more direct messages to help find the best solution to their problem.
So how can social media be used to inform and persuade during these final stages of their journey? We know consumers bring a set of brands with them from their initial consideration set, but this doesn't mean that there aren't opportunities for other brands to come in and disrupt the process. It's all about providing— and promoting— content that shows the value of your brand, and offers the consumer a point of difference or attractive price point.
Social media that helps brands in the active evaluation and closure stage includes:
Customer testimonials
"How-to" videos that demonstrate a product in action
Influencer endorsements and collaborations
Re-sharing user-generated content about your product
Retargeting campaigns
Paid social media advertising
Using social media marketing to enhance the post-purchase experience
"A repeat customer has a 60-70% chance of converting" – Paul Farris (Marketing Metrics)
One of the biggest mistakes that social media marketers make is assuming that once the customer has made a purchase, they simply return to the beginning of the customer buying journey to start the process all over again.
Not only is this ineffective, it can be a costly mentality when by simply maintaining engagement the consumer could have skipped these early stages and come straight back to your website to purchase again.
Not to mention that repeat customers are 9x more likely to purchase from you than new customers.
So how can brands use social media to enhance the post-purchase experience and create loyal, happy customers and repeat business?
Think about the post-purchase stage as an extension of customer support. Just as you wouldn't tell a customer to get out of your physical shop once they've made a purchase, why would you want your online customers to feel abandoned?
You can use post-purchase social media strategies to help consumers feel nurtured, and part of your community, improving customer retention and as a result, revenue.
Examples of best practice post-purchase social media includes:
Customer support videos e.g product tips and tricks
Follow up surveys
Thank you messages
Product recommendations based on past purchases
Encouraging product reviews
Send branded confirmation emails (such as Your Package has been shipped!)
Invite them to a loyalty program
Reward them for creating UGC about your brand
How to make money on social media
Back in the early days of social media, many of the organic marketing strategies that we've covered so far were enough for brands to get noticed by their target audience and achieve some of their selling objectives.
However, as platform algorithms have evolved, things have changed considerably. While social commerce is growing each year with larger percentage increases in retail traffic than any other channel, it's become harder for brands to target their audiences through organic reach alone.
Social media marketing has become a pay-to-play game.
Today, marketers must include paid social strategies as a means to not only reach their audiences but also lead them through the customer journey and onto their websites to make a purchase.
If you're new to paid social media marketing, knowing where to start, how much budget to allocate, and how each platform operates can be overwhelming. Some marketers dedicate their whole career to becoming paid social media advertising experts, which is why working with an agency is advisable for those who are just starting out or who aren't seeing the results they hoped for.
Let's have a closer look at the different ways you can use social media marketing to help increase revenue for your business.
Paid vs Organic Promotion
The first step in your social media marketing selling plan is understanding what promotion you should pay for, and what you can achieve through organic marketing.
Part of the magic of organic promotion is its ability to portray authenticity and build relationships with your followers. Initiatives such as using Instagram Stories to show behind-the-scenes footage of your brand creates trust while giving you a chance to develop your brand's distinct voice.
However, paid advertising is what's going to help you reach your audience with your message. And with organic social media reach for businesses heading south each year, it's often a brand's only chance for success.
It is however considered social media best practice to use a mix of both paid and organic social media so that you can nurture your followers and broaden your reach.
Examples of organic social media promotion include:
Creating a hashtag to build a campaign and community around it
Interacting with your audience through comments and other customer care initiatives
Using your channels to promote your brand story AKA your company's 'WHY'
Encouraging user-generated content
Examples of paid social media promotion include:
Pay-per-click advertising
Branded content
Display ads
Influencer-generated content
The advantages of paid social media advertising
A paid social media strategy uses advertising tools native to the social media channels you are active on to create, schedule, and post targeted ads. Since every channel is slightly different, paid social advertising will look a little different depending on the channel.
The advantages of introducing paid social media advertising is its ability to break through social media algorithms that stop your target audience from finding you through organic reach alone, and promoting content that will help convert them into customers.
The advantages of paid social media advertising include:
Increasing reach – Organic reach can only go so far before you'll start to notice it flatline and engagement with your posts decrease. Paid social media helps you break through those algorithms and connect with audiences who otherwise wouldn't have found you
Boosting conversions – If you create content that is helping to convert customers, paid social media advertising can help that offering reach your ideal target audience
Building desirability – 64% of consumers say they use social media to discover new products and look for shopping inspiration from their peers. Using paid advertising can help get your products or services in front of people who are receptive to your promotional messages
Great targeting features – As social media advertising increases in popularity, the different social channels are continuously improving the advertising tools they offer. This means there are plenty of features to help you reach your target audience as effectively as possible, this can include geo-targeting, lookalike audiences,
Types of social media ads
There are many different types of social media ads that you can include in your strategy. You could include:
Dynamic ads
Pay-per-click advertising
Branded posts
Photo ads
Video ads
Stories ads
Carousel ads
Slideshow
Collection
Messenger
Playable
Let's have a closer look at some of the most common social media ads.
Social pay-per-click (PPC) advertising
Social PPC or pay per click advertising is a form of paid digital advertising that's unique to social media. These ads will generally appear in a user's newsfeed and are targeted to audiences based on their demographics, interests or data that's been collected by the platform. Advertisers pay for their ads through two bid strategies. Cost per click (CPC) or Cost per thousand impressions (CPM).
One of the great benefits of PPC advertising is that with the right management, it can produce good immediate results for a brand while also setting it up for long term success.
The premise of PPC advertising is that the advertiser only pays when a customer clicks on your link, making it a highly cost-effective form of advertising when in the hands of PPC professionals.
Sponsored content
One of the issues of paid social media advertising is that it's by nature quite invasive. The user is disrupted from their experience, which can sometimes work in the brands favour, but it can also be annoying for some users, and the brand runs the risk of losing credibility or trustworthiness.
Sponsored content is a type of native advertising that overcomes the problem of being disruptive. A brand will work with a partner such as an influencer, other brand or publisher to have them share their social content in a way that looks and feels like a natural fit for the platform. This allows brands to reach a whole new audience with content that doesn't disrupt their experience and which they're likely to enjoy.
Sponsored content:
Gives your brand credibility
Helps you reach new, highly targeted audiences
Can be all types of content from images, videos, ads and more
Is mutually beneficial to both the brand and the publisher who's being paid for their post
Facebook advertising and the power of retargeting campaigns
When a consumer reaches the active evaluation stage of the customer journey they perform some or all of the following behaviours:
Google product reviews
Visit the websites of competitor brands
Compare prices online
Visit the social media profiles of different brands
Put a product in your shopping cart then change your mind at the last minute
So how can brands use these well known consumer behaviours to help steer them towards their products? A common and effective tactic is through social media retargeting.
We know that social media is an important part of many shoppers' path to conversion, but with consumers jumping between websites on the open web and social media to conduct their product research, the challenge for marketers is connecting campaigns between the two.
Social media retargeting works by joining the dots. If a consumer leaves your website after browsing your offerings, social retargeting can remind them of the products they're interested in and offer a promotion or incentive to return to your website and complete the purchase.
To make this process easy for marketers, Facebook and Instagram offer different ad formats based on engagement and purchase intents. When a consumer visits your website, a cookie captures actions— such as adding an item to a shopping cart— and then reports it to the social media site the consumer appears on. This 'cookied' visitor will then be served an ad based on their engagement with your website.
In our Timmy's Toothpaste teeth whitening example, the retargeting ad might look something like this: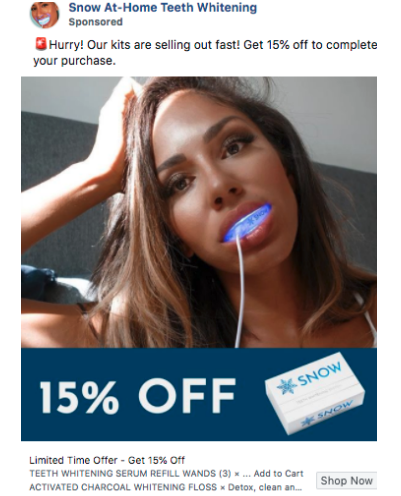 Let's use Timmy's Toothpaste to have a closer look at how the retargeting process works:
You browse the Timmy's Toothpaste website, looking at products, and finally add a whitening kit to your shopping basket. This intent data is captured as you move around the website.
After moving the kit into the shopping cart, you get distracted by an email and end up putting your phone down before you complete the purchase
Later that day, you open up Facebook, where the retargeting process continues. Your purchase intent has been calculated and a dynamic Timmy's Toothpaste ad based on this data has been created and will now display your whitening kit and other recommended Timmy's items
The ad copy announces that there is 'Free Shipping on all Purchases' which entices you to click on the ad, leading you back to your shopping cart to complete the purchase
Without being served a retargeting ad, not only is it possible to forget about Timmy's Toothpaste, but the initial desire to even purchase a teeth whitening product can easily be forgotten as the user carries on through the day.
Influencer marketing
One of the most valuable aspects of social media is its power to help you connect with your audience in ways that are authentic and meaningful. As social media has grown over the years, brands have used industry influencers, experts and popular personalities to make product recommendations on their behalf.
Known as 'influencers' their role in social media marketing has been highly effective and valuable for advertisers. Not only do influencers come with a pool of highly engaged and attentive consumers who view them as a trusted source of information, but brands don't have to jeopardise any of the social capital they've worked so hard to build on with their organic content by appearing to 'sale-sy' to their intended audience.
As influencer marketing has matured, things haven't remained so rosy. Some brands report that its effect is softening as consumers become more savvy and consumer safeguards are introduced stipulating that influencers must disclose their endorsements as an ad.
Despite this, market analysts predict that influencer marketing will be worth more than $15 billion by 2022, a rise from $8 billion in 2019. Influencer trends are evolving, with a move away from those with huge followings towards a new focus on nano-influencers (those with less than 1000 followers) or niche topic experts who remain invaluable in their ability to build trust and brand identity as well as influence the purchasing decisions of their network.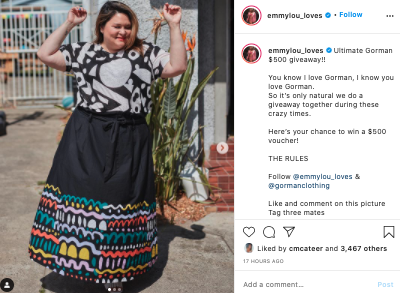 To include influencer marketing in your social media strategy always:
Have a clear plan and objectives before you engage an influencer
Remember that influencers are businesses too, and may oversell their value to get the job—make sure you research their claims, audience, engagement and whether they really are the best fit for your brand
Consider using an influencer agency to source appropriate collaborators
If you find an influencer you want to reach out to, start by interacting with them through comments, blog mentions, shoutouts or sharing their content to start building an authentic relationship with them
Remember that the value of your partnership has to be beneficial to both parties, so work on developing a mutually beneficial agreement before you approach them
Be wary of people looking for a quick exchange of cash for a post or shout out, you want to build long lasting relationships that grow in value over time
Be creative! While it's important to take into consideration social media trends, finding unique ways to cut through the millions of influencer content and collaborations taking place each day is to find a point of difference and shout it from the rooftop!
Social media optimisation
Marketers have been using search engine optimisation (SEO) as a key strategy for improving their business for years. Its effectiveness at improving website traffic, furthering reach, and increasing revenue has proven essential for fuelling effective marketing campaigns.
But as social media has played an increasingly important role in the changing digital landscape, businesses looking to improve their search rankings are finding that including the same strategies that are essential to SEO also work for improving their social media strategies.
Here's how you can incorporate social media optimization (SMO) into your strategy.
Include keyword research
Knowing what topics and questions your audience is asking about your industry is essential for producing content that is relevant to their needs. Use a keyword research tool such as ahrefs to discover hashtags, phrases and keywords that you can include in your social media posts so that your profiles have a higher chance of being found by your target audience.
Optimise profiles
Just as optimising your website is crucial for SEO, optimising your social media profiles is essential for SMO. To optimise your profile make sure that:
Your company logo is your profile picture
Your username matches your company name
You include a concise bio on what your organisation does, and where possible include a trackable link back to your website
Fill out your profile completely. The more complete your profile is, the more authority it will have
Optimise content
By now you should understand the importance of only posting quality and relevant content on social media, and this applies to optimising your SMO. One way to ensure that you're truly optimising your posts is using different text headlines across different channels.
For example, if you were a pet food company promoting an article about your latest range of dog treats across your Twitter and Facebook accounts, avoid using the same heading for both. Take into consideration the tone of voice, character restrictions and audiences of each channel.
Your headline title for Facebook might be:
"Make your best friend barking mad with 2020s best treats for very good doggos!"
Where your Twitter headline may be:
"Top treats for the very good boy in your life: woof!"
Make content richer with hashtags and images
Studies have shown that incorporating images into your social media posts is the number one optimisation tactic. When choosing an image to include in your posts, make sure that it's relevant to your topic, and is correctly sized and formatted to each channel.
Hashtags also help in your social media optimisation by giving your posts more reach as even people who aren't following you will be able to find your content.
Optimise post timing
The time that you post on social media can make a big difference to who and how many people see it. The optimal time to post on social media will depend on your industry, audience and each site, and isn't an exact art. Working with experienced social media marketers is a good starting point in working out social scheduling because they'll have a good feel for what has worked for other clients, but performing your own research and A/B testing will help you find the sweet spot for your brand.
How social media advertising affects SEO
When marketers think about social media, the first thing that comes to mind isn't normally SEO. And while they are right in believing that social doesn't directly affect how your brand performs in a Google search, it will have an impact on many of the factors that affect your rankings.
Social media drives website traffic
When lots of social users share your content, more traffic will be sent to your website. Website traffic is a primary indicator to Google of your authority and will help to boost your rankings.
Your social media profiles show up in search results
Your social media profiles rank in search engine results and are likely to feature on the first page if someone searches for your brand. Therefore, when you optimise your profiles with keywords and other tactics, you can easily increase your search visibility and drive more consumers to your website.
Social media can further content reach
If you're producing great content, it can be difficult to get it in front of the right eyes unless you have a great SEO strategy. Part of that strategy for many brands is promoting content through social media, which helps get it in front of people who didn't even realise they needed it. If you've created great content such as blogs and videos, and it's properly promoted, that leads to high quality traffic which will improve your SEO rankings.
Consumers use social platforms as search engines
With consumers spending so much of their time on social media, the traditional means of researching has evolved. Social platforms now offer robust search engine features that help consumers discover your profile, business information and content just as they would in a Google search!
Don't be confined to seeing social media as purely a promotional channel. Include it in your SEO strategy to help amplify your content and increase your website traffic.
Developing social media content
No matter how much effort and research you put into your social media strategy, if the content you develop fails to cut through the noise or engage your target audience, you're simply not going to see any results.
So how can you develop social media content that will encourage engagement and create a community around your brand?
Only post high-quality content
Whether you're sharing a video, blog, image or advertisement, the quality of your content in the eyes of your audience means everything. In a world where consumers have 8 second attention spans, and spend 1.7 seconds with a piece of mobile content, if the quality is poor, they're simply going to keep scrolling, unfollow or even block future posts from you.
Optimise each post for different channels
If you've created a great piece of social media content that you want to share across your different channels, it's important that rather than just blasting the same content everywhere, you repurpose and optimise it to fit the format, dimensions, tone of voice and audience of each channel. In some cases you'll find that the content isn't appropriate at all for a certain channel, so learning some restraint and knowing what to omit is also an essential skill.
Use high quality visuals
The first thing users will notice are the visual aspects of your posts such as images, text and video. Make sure that yours are visually appealing and clear in their message. You should always use:
High-resolution photos/videos
Clear copy that's free from spelling mistakes
'White space' to draw attention
Formatting that is consistent and appropriate for each channel
Visual aids such as infographics, subtitles or illustrations where appropriate
Add value to the consumer experience
Keep your audience front of mind. What value will they gain from consuming your social media content? This doesn't mean that everything you post needs to be informative content, but it should always add value to their day. Including positive news and statistics pertaining to your brand is a great way to encourage engagement. See how Coschedule, a content calendar software company has used Twitter to share a pro-tip about content performance. By sharing their knowledge, they're adding value to the consumer's day without asking for anything in return or pushing their product. This builds trust with their audience and helps position them as thought leaders in their industry.

Stay on trend
Is there a trend, topic or industry news that you can exploit for catchy content? On top of keeping your content fresh and relevant, using news to inspire your posts can help you come up with content if you're feeling stuck. But beware of jumping on any old bandwagon just because you think you should. Remember to always keep your angle fresh and relevant to your brand and audience. In 2013, when a blackout threatened to derail the American Superbowl, many companies like Tide were quick to newsjack the trending topic to their advantage.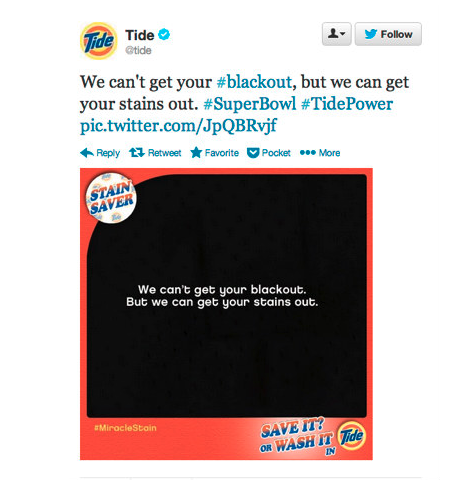 Be interactive
A secret to great social media engagement is just that… engagement! Draw your audience into your content by asking them a question, running a poll, creating a competition or offering giveaway incentives in exchange for tagging a friend or responding to your posts.
Use humour
Earlier we discussed how positively consumers respond to brands who cultivate a friendly and approachable persona. Part of that process often involves including humour in social media posts and copy. Compared to more formal mediums such as a brand's website, social media is the perfect platform to express the lighter side of a business. This is, however, another area where a brand should tread lightly. What's funny to some can be offensive to others and there are plenty of examples of unintentional gaffs that have caused loss of business and reputation.
You also have to ensure that the humour you use aligns with your brand's personality and doesn't feel disjointed from the rest of your posts. Despite this, humour can be very well placed in social media marketing and can be incorporated through:
Sharing videos, gifs and memes
Using witty hashtags
Making lighthearted fun of your brand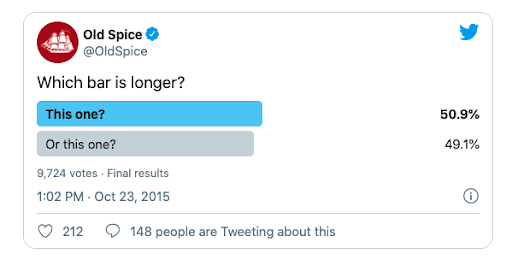 Think in campaigns
Instead of creating or sharing random posts, always think in terms of campaigns that keep your SMART goals front of mind. In other words, always come back and ask yourself, what am I trying to achieve by posting this?
When you can tie every social media post back to a bigger goal and develop similar related posts that are optimised for each channel, you're on your way to creating engaging and effective social media content that will help you reach your goals.
Content curation vs content creation
In a perfect world, your brand would have access to bottomless resources, a team of dedicated content creators and the budget to create original content all day long, and always have something topical and relevant to delight your audience.
Even some of the biggest brands don't have this capability, and doing so wouldn't be the best use of their time. This is where content curation rather than creation steps in to fill the gaps and ensure that you always have something to share with your followers.
What is content curation?
Content curation is the process of sharing content that's been created by other sources or companies. It can save marketers time and resources they would have spent creating original content, as well as build industry connections and extend reach.
Pros of content curation
The positives of including curated content in your social media marketing strategy include:
Saving time and resources that would have been spent creating original content
Listening to your audience means you can share content that's similar to their interests
Building industry connections with brands whose content you're sharing
Showcasing your diverse knowledge as a thought leader
A chance to break up any self-promotional posts in your feed
When you share curated content with your audience, you're showing them that you're willing to share valuable information with them even if it doesn't pertain to your brand, building trust and giving them fresh content to keep them coming back to you.
Pros of content creation
The positives of creating original content include:
Studies show that original content receives 2.4% of click-to-conversion rate, 54% more than sharing third-party posts
The ability to add your own CTAs, branding and links to a post
Original content ranks better on Google, meaning you'll increase traffic to your website
You can position your brand as thought leaders, building authority and trust with your audience
There are many positives to both content curation and creation, which is why it's advisable to include a mix of both in your social strategy. While there's no set rule on how much of each you should share, including 40% created and 60% curated content is a good rule of thumb to get started.
What's more important is ensuring that the curated content you share comes from a reputable source and that you credit that source for their work.
Using social media content to build one-on-one relationships
Earlier in this guide, we learned that evolving social media algorithms have made it nearly impossible for brands to get results through organic posting. This has made paid promotion essential for reaching social goals, but it's also heralded the importance of establishing one-on-one relationships with those who interact with you. Cultivating these personal relationships shows social media platform algorithms that you have high user engagement but more importantly, it ensures that you're using social media for what it's truly designed for. Building meaningful relationships.
How to build one-on-one relationships with social media
The key to building one-to-one relationships with your social media audience is being responsive, respectful and honest in your interactions. Here's how you can start building those crucial connections.
Respond to everyone – even if it's just a 'Like'
Be completely honest and genuine in your responses
Use emojis – studies have found that Instagram posts that include emojis have a 47.7% higher engagement rate than those without
Don't use your responses to push products – use comment sections for building relationships instead
Respond to customer care questions to help others answer queries without having to get in contact with your team
Tips for best practice one-on-one social media engagement
Cultivating a lighthearted and humorous personality when interacting with your audience helps them feel like they're conversing with a friend
Encourage interaction by offering incentives such as 'Tag a Friend to Win' promotions
Ask your audience for reviews
Conduct polls and make sure that you deliver on their opinions
Consider starting a Facebook or LinkedIn group around your brand to create conversations and a community around your brand
How to measure social media marketing
In the past, measuring social media ROI was considered difficult. Marketers didn't know how to attribute their social efforts to the business bottom line, leading to 70% of online companies not reporting any social media ROI, and business leaders underestimating the value of investing money into building an effective social strategy.
Part of the problem is social media's unfair reputation of being difficult to quantify. Marketers tend to look to vanity metrics such as 'Likes', Followers and Tweets over data-driven meaningful metrics such as cost-per-click or soft lead exchanges such as e-book downloads, which hasn't led to any tangible results. Here's how to properly measure the results of social media marketing.
What is social media ROI
To accurately measure social media ROI, marketers need to take a holistic look at the impact their strategy is having across all areas of the business. But what is social media ROI? Essentially, it refers to tracking the results of everything you do with social media from reputation management, brand awareness, customer care and creating revenue.
Metrics to measure ROI success
The exact metrics you choose to measure your success will depend on your industry, current SMART goals and other factors unique to your business. In saying that, these are the leading metrics brands should consider when tracking their social media results.
Website traffic
Reach and engagement
Sentiment analysis
Audience increases
Campaign results
Product downloads and trials
Purchases
Sign ups and downloads of marketing materials
Visit to lead conversions
When measuring success, remember to also track against your social media expenses to calculate an ROI. Expenses to look out for include:
Headcount (how many hours have been worked)
Advertising costs
Content creation costs (did you hire a photographer/purchase a graphic design app)
Cost of social media tools
Social media ROI that can't be measured
There are some elements of social media marketing in which offline success can't immediately be measured. Building relationships with an audience takes time, and just because your Facebook post doesn't result in a conversion today, familiarity with your brand can lead to a consumer choosing you over a competitor later down the road, or being more receptive to a Google ad they come across.
While there are social media analytics tools that can certainly help you to unravel some of these more tricky metrics, working with an experienced agency will help you gain a deeper understanding of what these metrics mean for your business, and how to pivot your strategy to better respond to your results.
Performing a self-audit just as you did at the beginning of your social media strategy planning process every 6-12 months will ensure that you are ontrack and that your results are continuously improving.
Social media marketing tools
Having the right social media marketing tools will make a big difference to how well your social strategy performs. Without them, not only will your efforts be inefficient, but you'll struggle to schedule, listen, track and report on your results.
Luckily, there are now hundreds of different social media tools available to help you reach your goals, but finding the right fit for you and your business' needs can take some trial and error. To help you find the right tools for the job, we've put together some of our favourite social media marketing tools that can help you succeed.
Best social media scheduling tools
Best social media listening tools
Best social media analytics tools
UTM parameters
Facebook Pixel
Facebook Insights
Instagram Insights
Twitter Analytics
Social media marketing tools
Social media marketing statistics
latest articles