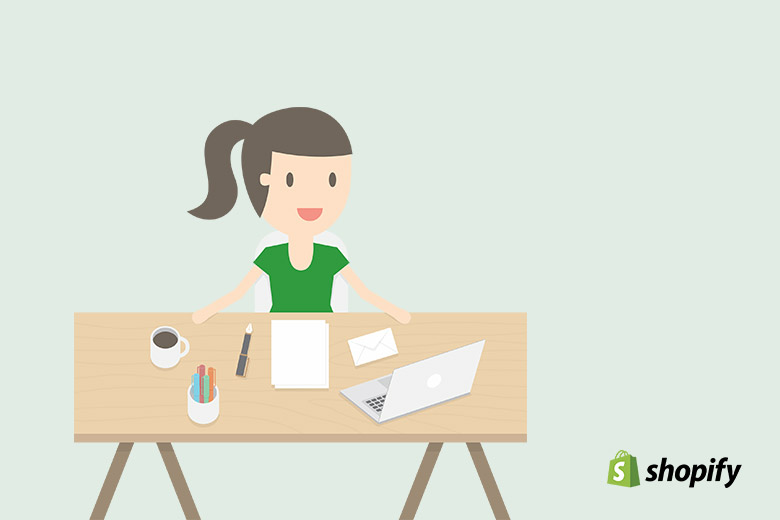 The strategic guide to Shopify
42

min read
Launched in 2004 by three Canadian snowboarders who were unsatisfied with the poor experience of existing eCommerce platforms, Shopify has grown into the world's third largest online retailer, with over 1 million merchants selling countless products across 175 different countries.
Shopify's success lies in its simplicity. The bar for entry is low, it's highly flexible and with endless add-ons and integrations, it's the easiest way to get into eCommerce.
In this strategic guide, we'll go beyond the 'How-To's' of Shopify to bring you pragmatic advice for building and promoting a gold standard eCommerce business.
Ready to start your own successful Shopify store? Read on.
1. Preparing your store for success
Starting your own Shopify business is one of the most exciting and rewarding journeys you can embark on. But that doesn't mean it's as simple as stocking some great products and hoping they'll resonate with eager consumers.
While eCommerce sales are predicted to reach a staggering $6.5 Trillion by 2023, the battle for market share remains competitive, especially as powerhouse brands like Amazon continue to assert their dominance through low prices, large product selection and a slick customer experience.
However, this doesn't mean that you can't cut through and find your own recipe for success. With the right research, a data-driven business plan and a solid marketing strategy, you can join the thousands of Shopify store owners who've turned their online shop into an enviable commercial success.
Choose a business model
No matter what type of products you'd like to sell, you need to determine the right business model to suit your lifestyle, availability to commit full-time or part-time, personal finances and whether you're selling a physical product or digital service.
Shopify supports four key business models. Let's have a look at the benefits and challenges of each.
Dropshipping
Dropshipping allows a store to sell products that it doesn't keep in stock. Instead of directly distributing from home or your own warehouse, you curate a selection of products on your website, and then purchase the item/s from a third-party supplier who'll ship directly to your customer after they've placed their order. The dropshipping model makes you the middleman between supplier and consumer, and you never have to physically handle products yourself.
Benefit: Low start-up and inventory costs
The overheads of starting a business and purchasing your stock can be a big investment. But with the dropshipping model, because you only purchase inventory as the order comes in, you reduce initial capital expenses and can start earning money right away.
Benefit: No packing or shipping
Your third-party supplier will warehouse, organize, track, label, pick and pack, and ship your stock. All you have to do is organise it.
Benefit: Sell a large variety of products with no risk of obsolete inventory
Because you don't need a physical inventory, dropshipping allows you to test and sell a large range of products without the risk of being burdened with obsolete inventory. It also means that your product list can be updated quickly and cheaply, allowing you to stay ahead of any incoming trends, or remove any poor sellers.
Challenge: Reliance on others
When you leave the shipping, packing and order fulfilment times to a third party, you transfer significant control of your business onto others. Only work with proven, reputable suppliers, or you run the risk of late shipments or damaged products which will lose you customers and earn you poor reviews.
Challenge: Less profit
Because you're only purchasing units as required, the cost per unit increases significantly compared to buying in bulk. So unless you put a big markup on your retail price—which could deter buyers— you'll need to sell much more product to make a profit than if you owned or were warehousing products yourself.
Challenge: Competition
Your product mix is unlikely to be unique. There are potentially many other stores out there selling your exact product or a variation of it. This makes price competition especially high with dropshipping. Can you afford to keep prices as low as larger retailers with more purchasing power? Increased price competitiveness means that you may have to consider reducing spend in other areas, such as your marketing budget.
Challenge: Quality Control
There can be a high variance in the quality of products you can select from dropshipping suppliers. This means you need to be extra diligent in selecting products to avoid any potential risks to your brand. Keep in mind that some manufacturers won't accept items that customers return to you, even if it's a manufacturing fault.
Challenge: Shipping times
Many drop shipping items come from China, so delivery times may be slow or expensive depending on where in the world your customers are located.
Challenge: Packaging
The way items are packaged has become a big part of eCommerce branding. Think about the popularity of unboxing videos which have become a lucrative business in themselves or the way that Amazon brands every package. With drop shipping, because your items are coming from multiple suppliers, none of whom can provide your branded packaging solution, or worse, won't take the same care that you would in packing, you lose control of how your products are represented and if they'll arrive in one piece.
Manufacture
If you have a great idea or design for a product, you can source a manufacturer to produce it on your behalf.
Benefit: Profitability potential
Manufacturing often provides the greatest profit margins on your product because it offers the lowest cost per unit. Many people find manufacturing partners in Asia, where costs are lower and there is plenty of competition for your business, ensuring your margin potential will be high.
Benefit: Quality, brand and pricing control
Every part of your brand and products can be controlled by you—from pricing, to quality, and aesthetics— free from the constraints of other parties.
Benefit: Uniqueness
When you create your own product, no one else will have an exact like for like, meaning you can set your own price. If your product is a success, you can also form distribution deals with other online and offline retailers.
Challenge: Minimum order quantities
Start up costs for manufacturing are high. Despite being able to bulk purchase, costs can easily run into the thousands because you'll likely be required to fulfil a substantial minimum order quota — so you'll want to be confident that your product idea is going to be a winner.
Challenge: High Risk
The process from idea to market-ready is time-consuming and if your product is a failure, you'll be stuck with the leftover stock. You'll also need to fork out the investment capital upfront. In other words, there's a lot at stake. It's best to seek advice from someone who has their own small business or relative experience before you get started.
Make
Setting up a Shopify store allows jewellers, designers, makers and hobbyists to market their creations globally without any major increase to their current running costs.
Benefit: Ultimate agility
Not only does making your own products guarantee control of your pricing, marketing and manufacturing but you have the ultimate agility to make any amendments as you require them. You'll have control over the entire operation.
Benefit: Uniqueness
Just like the manufacturing business model, when you make your own products they're always going to be one of a kind. You can set your own price and even do deals with other retailers to distribute your products.
Challenge: Scalability
If your store is a success, you may have to consider moving to another business model to provide scalability and fill your order. However, you'll always have complete control over your stock and how quickly you can scale.
Wholesale
Wholesale is a straightforward business model in which you purchase inventory from an established brand directly from their manufacturer and resell it at a markup.
Benefit: You don't have to establish brand awareness
Because you're selling products from already established brands you're tapping into their familiarity, effectively piggybacking off their market position and reducing the risk of purchasing inventory that won't sell.
Benefit: Lower risk investment
Minimum order requirements are often very reasonable, meaning you don't have to commit to stock you may or may not be able to sell. You'll also waste no time trying to develop a product for market or worrying about whether partner distributors will be timely or how they'll pack your products.
Benefit: Control
Unlike dropshipping, you'll be able to influence delivery times and product packaging as well as oversee quality control. All things which can have a huge impact on your customer service and overall brand reputation.
Challenge: You'll be competing with other retailers with the same products
Your products will likely be available through other retailers meaning you have to find a way to be competitive and differentiate yourself. This means you'll have to be proactive in adjusting your prices and offerings to stay competitive. That said, wholesaling may give you access to products that are not as widely accessible as drop-shipped items and you may even be able to negotiate exclusive agreements with certain suppliers…
Challenge: Inventory and supplier management
It's likely you'll be working with multiple suppliers which will require more dedication to management—and can be a lot if you have other major commitments like full-time work. You will also have to find somewhere to store your inventory and pick and pack deliveries.
Choosing your brand name
Once you've landed on your business model, the next important step is to decide on your brand name.
While creating a memorable and strong brand name is essential for any retail business, it's especially important for online stores that don't have other physical elements such as a storefront or tangible merchandise the customer can feel for themselves. Your store name is your welcome mat to thousands of potential customers.
And with approximately 50,000 to 100,000 new domains being registered every single day, it's essential that you come up with a name that's effective, original, and available (but more on that later).
Choosing a brand name is a difficult process. One person who has had plenty of experience creating brand names is Di Marca's brand strategist Dean Millson. Dean discusses the approach he uses in Episode 11 of the Brandwidth® podcast.
Here's how he explains the four different categories of brand names:
1. Functional
A functional brand name is a description of what your products are, where your business is located or the name of a person involved in establishing the brand. General Electric is a classic example of a descriptive functional brand name. McDonald's is an example of a brand that's been named after its founder, and Melbourne Gin Company is an example of a business named after its geographical location. There are pros and cons to consider when brainstorming functional brand names.
Pro:
Functional brand names are highly searchable
They tell your brand story clearly
You can use functional names to capitalise on trends
Cons:
Functional names can be hard to scale up if your brand decides to diversify— meaning you'll have to deal with your name no longer being relevant. A good example of this is when brands use functional geographical names such as 'Smith Street Studios', then outgrow and move from their original premises making their name obsolete.
2. Experiential
An experiential brand name is a direct reference to the human experience. In other words, it's a name that tells an audience what they're going to get from the product but in an interesting and memorable way. For example, Apple's internet tool, Safari, invokes the feeling of going on a safari adventure through the internet.
Pros
Experiential names are positioning statements. They help your brand stand out by setting an expectation of what the consumer experience will be like.
Cons
It can be difficult to connect experiential names to meaning. You'll require a deep understanding of your business and what it stands for before the naming process begins. If the name isn't quite aligned with your positioning, the impact will be lost.
3. Invented
Invented brand names are completely made up or use non-English words that have been appropriated. Often, brands choose invented names because trademarks they were interested in are already taken.
Other times, invented names are created because they sound great phonetically or are a play on existing words related to the industry. Examples of popular invented brand names include Nike, Fanta, Dettol and Milo.
Pros
Invented names can be snappy and memorable
They're great for brand new products that are being introduced to the market for the first time
The best-invented brand names are based on poetically constructed names. Twitter evokes the experience of communicating rapidly and Google resonates with the act of searching and discovering
Cons
Invented names are hard to attach meaning to, and require much larger advertising budgets and hours of marketing work to establish their meaning in the mind of consumers
No one will be initially searching for your invented name
Invented brand names are hard to get right—when done well they give your brand attitude, when done poorly they're cringy or unmemorable
4. Evocative
Evocative brand names can be extremely powerful. They work by positioning a brand through relevant concepts that trigger our memories and emotions. Jaguar is an example of a brand that evokes a feeling of sleek, sexy, quick and fast—and they do this without ever having to explain their product. On the opposite end of the scale, Huggies nappies are an example of an evocative brand name that inspires comfort, cuddling, softness and caring.
Pros
Evocative names can be powerful and creative and act as powerful differentiators in the industry
With a good evocative name you don't have to work hard to sell products— the name does the talking for you
Cons
Evocative names can be hard to come up with but if you're clear on your brand positioning before you start brainstorming names, the process will be much easier
The formula for choosing your brand name
When Dean is tasked with developing a new brand name he likes to work through each of the categories, in the order of:
Functional
Experiential
Invented
Evocative
He'll brainstorm a number of possible names for each category. Dean explains that this process allows him to be methodical rather than jumping around between ideas.
By starting with the 'functional' category, he can deep dive into the benefits of the brand. This naturally feeds the more abstract concepts required to move through the list before he starts brainstorming the 'invented' and 'evocative' categories.
Brand Names vs Common Names
There's another important consideration when choosing a brand name. Do you go with something catchy and memorable or a more generic name that's easy for consumers to search for?
As a new retailer trying to gain traction, you may feel that choosing a name that's broad and searchable is ideal—but that's often not the case.
In fact, branding bible "The 22 Immutable Laws of Branding" goes as far as saying that in the Internet age, a common name is the kiss of death.
If you look at the world's biggest brands that are worth more than $1 billion each, none have a common name. Below is an example of what a brand or common name looks like.
Brand Name: Coca-Cola, McDonald's, Starbucks, Woolworths, Sony, Amazon
Common Name: advertising.com, flowers.com, books.com
To understand how names position a company, consider the luxury jewellery market. Where would you rather buy an expensive diamond necklace? Is it www.luxurydiamondjeweller.com or Tiffany & Co.?
Research shows us that common names are really just category names for products and are far less likely to be remembered or perceived as favourably as brand names.
Choosing a domain name
The strategy you use when choosing a domain name is as important as how you approach creating your business name. Here are some best practice tips for creating your own successful domain name:
Where will your customers be located?
Do you want to service a global or local market? This is the first question you should ask yourself before deciding on your domain name, as it could determine the TLD you decide to use. TLD is an abbreviation for 'top level domain'—the extension you see at the end of a domain name.
Examples of TLDs are:
If you're only selling into one specific geographic region, buying a domain name with a TLD for that region, such as com.au for Australia can be advantageous. This is because consumers who live in that area are more likely to trust you and in some circumstances, it can even give your site an SEO boost. These localised TLDs are known as geo-domains and are beneficial for:
Demonstrating that you serve a local market and are part of a community
Creating a relationship with local users who will see that you speak their language, understand their needs, and can quickly provide a service or product
Establish your presence in multiple locations so you can target audiences in different territories
However, more than 50% of websites worldwide use the .com suffix because it's easy for consumers to remember, so if you're expecting to sell your product globally it makes sense to make your domain as inclusive as possible. It's generally believed that Google is biased towards a .com domain, because they are easy and familiar to us.
Plan for the future
If you choose to start local with a .com.au domain, you may still want to secure the domains for other regions now in case you grow later down the track and start going after new geographies.
Keep it short
Short domains are easier to remember and easier to type into mobile devices. If your business name is long or made up of multiple words, look into ways it can be condensed for your domain while remaining recognisable as your brand.
Avoid the following
Avoid using any symbols that could confuse consumers, such as dashes, numerals, abbreviations and creative spellings.
Trademarking your brand
While brainstorming your brand and domain name, it's important to also think about trademarking. It's a common misconception that a trademark is the same as your brand or domain name. It's not. If you mistakenly use someone else's trademark for your brand, you could be open to legal action from the owner. Even names that are similar to an existing trademark can cause problems.
You'll have to lodge your trademark separately from your brand and domain names. To check if your desired trademark has any conflicts, try the Australian Government TradeMark Assist tool.
From there all you have to do is:
Explore your proposed trade mark
Discover if your proposed trade mark contains a word or phrase that may be difficult to register
Identify the goods and services you wish to protect
Search for existing trademarks that may be a problem
2. Building your own successful Shopify store
Now that you've got the bones of your brand together it's time to dive deeper into the important functional considerations for your Shopify store.
In this section we'll cover:
Setting your pricing strategy
Postage fees vs free shipping
Why your returns policy is critical for success
Product imagery best practices
Product description best practices
Proven product title formulas for success
The basics of bundling
How to use product recommendations to upsell
Best practice shopping cart essentials
Tactics for overcoming 'shopping cart abandonment
Setting your pricing strategy
Getting your pricing strategy right is one of the most important considerations of your Shopify strategy. Smart pricing takes into account three perspectives: those of your brand, your competitors and your customer.
Getting your pricing strategy right is a complex art. Your customers want to know that your products are good value for money, but you also can't leave any money on the table if you want to ensure your business won't just survive but will thrive and be profitable.
There are countless pricing tactics worth researching but the following two from John T Gourville's 'pricing thermometer' help explain why pricing products based on perceived value can be more important than focusing purely on cost price:
Cost plus pricing: 'Cost plus pricing' refers to the price you calculate by looking at the cost of your goods then adding a profit margin. This is a simplistic approach that can sometimes be appropriate if you're choosing a high-volume, low-cost business model.
Value-based pricing: Value-based pricing is a more complex approach that calculates the price of a product by measuring its economic value against the perceived value, as well as your ability to market this value to your audience.
For example, Apple has famously made charging a higher price the envy of brands worldwide. They've increased their perceived value (and as a result—profits) over the years without having to increase production costs. In fact, their flagship iPhone product is reportedly cheaper to manufacture than Samsung's rival product but sells for a much higher price.
It may take some trial and error but always focus on the importance of value in marketing, and remember that the wrong pricing can negate an otherwise brilliant marketing strategy. Research is vital.
Postage fees vs free shipping
Consumers love free shipping. So much so that, 9 out of 10 consumers are incentivised to shop online when offered free shipping, so it's definitely something you need to think about as you're putting together your Shopify strategy. However, if you're already working with low-product margins, offering free shipping can be enough to put you in debt, so you'll need to do your maths. Here's what to consider when deciding on your postage and shipping strategy:
When to offer free shipping
If you can work the cost of shipping into the cost of the product without the product becoming too expensive for its perceived value
If your supplier offers epacket delivery making it cost-effective and fast
When your competitors offer it and you don't believe you'll be able to compete without it
You're not concerned about increasing your average order value (AOV)
When you shouldn't offer free shipping
When you have low product margins (common if you're using the dropshipping business model)
If you want to use free shipping as a promotional tool later on (e.g 'free shipping this weekend only')
When shipping costs are too high
You're selling fashion items and can offer the incentive of 'free returns' instead
Consider conditional free shipping
Conditional free shipping is a tactic used by brands to incentivise consumers to increase their average order value (AOV). Rather than offering free shipping on every product, you set a purchase threshold such as $25, $50 or $100 to unlock the benefit of free shipping. The key here is finding a balance between what a consumer is willing to spend at your store or causing them to turn to your competitors for a better deal.
The questions to ask yourself before offering conditional free shipping
Am I charging enough for my products?
Can I make a profit after all financial factors are accounted for e.g taxes, advertising, cost of goods and free shipping?
Could I instead offer free shipping for seasonal marketing purposes e.g sale time
What are my competitors offering?
Am I looking to increase the number of orders or increase the average order value (AOV)?
Why your returns policy is critical for success
Having a returns policy is an essential service for online customers. However, you need to be careful with how you set up your conditions as excessive returns can place additional pressure and work on your Shopify store, particularly during busy periods.
Regardless, 91% of consumers say that an eCommerce store's returns policy plays a key role in making purchase decisions—so the key is to strike a balance between a returns policy that fits your needs while still enticing consumers to your store.
Remember, customers don't have the chance to physically evaluate your items, meaning that the more restrictive your returns policy, the more risk they're taking on, so the less likely they are to purchase from you.
Make sure your returns policy includes:
How long the customer has to return the item
The condition items can be returned in
Whether refunds are offered, and if so, how much and what type (e.g. store credit or refund)?
How exchanges work
Do you accept returns or refunds for sale items?
Who will pay for shipping?
Shopify makes returns easy with their free refund policy generator tool that will customise a policy for you based on your company info and needs.
Product imagery best practices
High-quality product images are one of the most effective ways to help your Shopify store stand out from your competitors. Whilst sourcing high-quality images from your manufacturer can be an okay place to start, it's always more advisable to take your own photos. Using your own product shots allows you to present a consistent visual style across your site and makes it easy to update as your products change.
Create a visual style guide
Creating a strong marketing message through visual elements such as your branding, logo and product imagery requires consistency. This makes creating a visual style guide essential for keeping everything on-brand when making updates to your website or promotional materials. However, don't make the mistake of going overboard and wasting valuable hours creating an overly detailed guide—all you need to cover is:
Your logo (how it can be used, including acceptable sizes and colours)
A brand colour palette
Acceptable fonts and where each can be used
Product photo angles & lighting requirements
Shopify uses templates that will form the visual basis of your eCommerce website—but creating a visual style guide is still essential because you'll need it to guide your logo creation and start your promotional activities.
The example below from Destination Canada is a great example of a well-executed and simple Style Guide.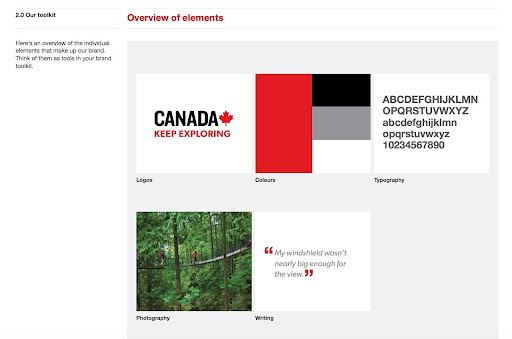 Consider purchasing a professional toolkit with a lightbox
The impact of high-quality imagery on online businesses can't be understated. Etsy reports that 90% of their sales are driven by the image quality, which isn't that surprising when you consider that photographs are the closest your customers get to try out your products before purchase.
The good news is that anyone can create beautiful product images without the need for an expensive camera. The only product photography tools you'll need to get started are:
Your smartphone (or a digital camera if you own one)
A tripod for stability
A white backdrop for consistency
A lightbox
A lot of camera equipment suppliers sell toolkit packages, especially for product photography, so it pays to shop around and find a good deal that fits your needs.
Consider hiring models
If your Shopify store is selling apparel you may want to consider hiring models. Having a certain 'look' can help tell the story of your brand. You don't have to aim for conventionally attractive— we're bombarded with thousands of digital faces each day, so choosing models that stand out from the crowd can be a clever tactic to help your brand stand out and stay memorable.
If you don't know where to start, apps like The Right Fit or Tribe can help to connect you with all sorts of appropriate talent including models and social media influencers.
Creating unique product descriptions
If you're dropshipping or warehousing then it might be tempting to use manufacturer-supplied product descriptions, but this isn't advisable. Your product descriptions should provide a distinctive voice for your brand, maintain a consistent tone, and be unique. Unique product descriptions also help support your SEO, meaning your products will rank better in search engines.
See how online apparel brand Everlane includes all the essential information about this pair of heels while maintaining its brand's distinct voice in the copy.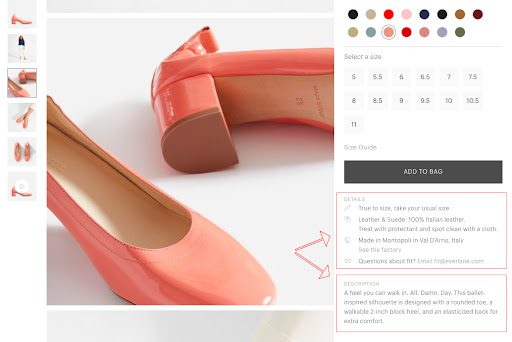 Product titles
Your product titles play a pivotal role in converting customers, but there's more to it than just creating a catchy heading. Product titles should be unique but they also need to be optimised with keywords and product attributes so that they can be found by your audience in search engines. If your store stocks well-known brands, ensure that you're including those brand names within your product titles.
Do:
Write the product title in simple terms
If you're selling clothes, include the season
Be thorough (size, colour, gender, material, and condition).
Include the name of the brand
Include the model number, if applicable
Include different product variants, colours, flavours, sizes, colours
Keyword research is essential
Capitalise the first letter of each word but don't capitalise the whole title
Use numerals rather than spelling out numbers
Include multi-language options where appropriate
Don't:
Don't include the price in the title
Don't add information about the retailer
Don't use descriptive language such as 'best, finest etc'
Don't include symbols
Don't use punctuation unless it's part of the brand name
Avoid punctuation and special characters
Don't ignore SEO—your title needs to be searchable by humans and search engines
The basics of product bundling
Product bundling is the process of packaging complementary groups of items so they can be sold together. It's a great way to earn more revenue and increase your AOV. Shopify reports that 10%-30% of e-commerce revenue comes from product bundling.
However, It's not as easy as just sticking a few products together and hoping they'll sell. Here's what you need to know about the art of successful product bundling.
Common types of bundling
Mixed bundles: Bundling adjacent products in a similar group that are also sold separately. For example, a shampoo, conditioner and hair treatment set.
Pure bundles: When you can only receive that product as part of the bundle and it's not sold separately. This is often seen with kitchen and other household appliances. For example, you may purchase a blender that only offers the matching cookbook and accessories when bought as part of a pack.
Price bundling: When the retailer chooses a few items that must be bought together to unlock a discount. You see this often with buy one, get one free deals.
The psychology of product and price bundling
The reason bundling works so well is that it plays on our psychological need to hunt out a bargain. In the minds of consumers, product bundling increases perceived value. Lower prices and added convenience make for a greater shopping experience. Funnily enough, when products are bundled, the consumer often spends more on your products as they may have only come to your store looking for a single item.
Bundling also influences subconscious buying decisions. If your Shopify store sells fashion and accessories, customers don't have to go back and forward between multiple tabs, determining which pair of pants matches a certain jumper. If you offer an entire outfit at a discount makes the buying decision easier – and leaves the customer feeling like they've struck a great bargain.
Nintendo takes bundling one step further by allowing customers to create their own bundles to increase "positive synergy" between items.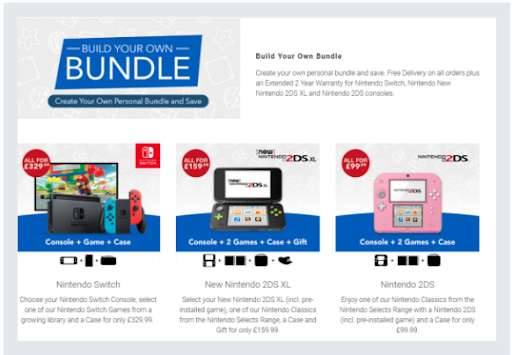 Move surplus stock
If you have a product that's not moving, product bundling can help reduce your number of stagnant products. By pairing a slow-moving product with a bestseller you can freshen up your offering, clear your surplus and increase your transaction values.
Increase product awareness & brand loyalty
Bundling is a great way to increase awareness of products in your inventory by giving consumers a chance to try something new that they wouldn't normally purchase. Chances are, they'll discover new products they love, which will keep them coming back over and over again.
How to market your product bundles
Product bundles are great for attracting and keeping customers on your website. So make sure that they're properly promoted.
Display your bundle prominently on your site, e.g on the homepage
Make sure you're clearly demonstrating the cost-saving benefits of purchasing as a bundle
Use bundles for gift guides e.g if you're selling jewellery you could create a "Perfect Valentines" bundle that sells a ring, bracelet and necklace as a curated collection
Offer a price bundle at checkout to help the customer pull the trigger on a purchase. "Spend $10 more to receive 15% off the total shopping basket" is an example of a common tactic.
How to use product recommendations to upsell
Upselling is the technique of persuading consumers to purchase a premium or larger version of the product they're already considering—or have purchased in the past.
There are multiple reasons why eCommerce retailers look for upselling opportunities. When you're upselling, you're speaking to someone who's actively interested in your products and receptive to your suggestions. The probability of selling to an existing customer is 60%-70% compared to a first-time customer's 5%-20%.
How to upsell without sounding like a pushy salesperson
Upselling doesn't just increase AOV, it can also increase customer lifetime value, and most importantly— makes for happier consumers. However, there's a fine line between helping customers with a great product recommendation and being a pushy and off-putting salesperson.
Timing is key: Offering an upsell when the consumer has added a product to their shopping cart is a great opportunity to suggest supplementary products that can help them get even more value from their purchase
Make sure it's relevant: Upselling feels seamless and helpful when the products you're recommending are relevant to what the customer has been clicking on or already added to their basket.
Personalise: 75% of consumers say they are likely to make a purchase when the retailer recommends products based on their purchase history, and addresses them by name
Use conversion-boosting language
Use language that triggers a customer's fear of missing out (FOMO) response. This can be through urgency tactics such as sales timers, or highlighting that you have limited quantities of a premium product.
You can upsell post-purchase too
Your opportunity to upsell doesn't end once the customer has made their purchase. Use your 'thank you' communications or 'order confirmation' page to show customers how to make the most out of their recent purchase. Post-purchase upsell pages are great for smaller add-ons, free gifts and free samples.
Later in this guide, we'll be talking about the power of email marketing as an effective customer retention tool, and this is a great way to provide post-purchase upselling opportunities.
Best practice shopping cart essentials
One of the advantages of Shopify is that most themes come out of the box with best practice shopping cart features. Nevertheless, there are some important considerations as you build and add to your site from these templates:
If your shopping cart includes a few steps to purchase, include a progress indicator that shows them how close they are to the final stage.
Include a prominent 'Express Checkout' option
Have your contact information displayed on the shopping cart page
Include a couple of relevant cross-sell products on the page
Make sure there's a 'Save Cart' option
The more you can diversify your payment options, the more likely you'll reduce shopping cart abandonment
Including third-party security logos increases trust in the validity of your brand
Include thumbnails of the items they have in their shopping cart
Tactics for overcoming 'shopping cart abandonment'
Shopping cart abandonment occurs when a customer begins their checkout process but drops off before the order is complete. Shopping cart abandonment is arguably the biggest issue facing e-commerce retailers. Globally, the rate of shopping cart abandonment is over 70%, costing brands $18 billion a year in lost sales revenue.
Shopping cart abandonment is an important metric for e-commerce sites to track because a high rate can indicate a poor user experience that will require your attention.
The following tactics will help you to optimise your Shopify store to reduce shopping cart abandonment and increase sales.
Do
Include customer testimonials on their journey to checkout
Be upfront about an item's availability before checkout is reached
Enable a 'Save Cart' feature
Automate abandoned cart follow-up emails that remind customers what they're missing out on
Consider abandoned cart retargeting advertising as part of your promotional budget
Don't
Don't include a 'Enter your Coupon Code' box on your checkout page—it only causes customers to leave your site to search for potential coupons or to think they can wait it out until a coupon comes up
Don't wait until the last minute to include shipping costs.
Don't force customers to register with you
Shopify provides great tools for reviewing abandoned carts including ways to manually or automatically email logged-in users who've left an abandoned cart.
Marketing automation platforms such as Active Campaign provide tools that allow for greater customisation and personalisation of abandoned cart communication, including both email and SMS reminders, and more advanced sequences.
3. Promoting Your Shopify Store
You've built your website, uploaded some great products and are ready to welcome paying customers—congratulations, it's time to start promoting your Shopify store.
If you're not familiar with marketing or e-commerce promotion, knowing where to start can be difficult. The following tips will help you optimise your website for promotion, learn some e-commerce marketing fundamentals and shape your own killer promotion strategy.
Set yourself up for a data-centric approach
Before you begin any promotional activity, it's important to set yourself up with tools that will help you measure the success of your campaigns. While there are a number of analytics tools suitable for Shopify, Google Analytics is an excellent place to start. It's easy to navigate, provides you with deep insights, and if your website receives less than 200,000 daily visits (which is an awful lot), then it is completely free to use.
You might use Google Analytics to figure out how much time customers spend on your site, where they're located, which products they're clicking on and the advertising campaigns and channels that are bringing them to your site.
Developing your customer database
Now that you're set up with an analytics tool, it's time to concentrate on growing a customer database. Marketers know that a quality database is one of their most valuable assets. That's because a database is a core group of consumers who know your brand and are open to hearing from you. When you facilitate quality touch points with an engaged audience of consumers, they convert at much higher levels than cold traffic. Developing a large, quality customer database allows you to:
Identify detailed customer groups
Design highly personalised campaigns
Determine the best channels to engage customers
Improve your marketing efficiency by not sending campaigns to those who are unlikely to respond
Incentivise repeat purchases
The following steps will help you to start building an email list from the moment you open your store.
Competitions and giveaways
The first 100 customers in your database (known as your seed audience) is almost always the hardest goal to reach.
One of the most cost effective and efficient ways to grow your seed audience is through contests and giveaways. By offering consumers something in exchange for their details, lead generation is incentivised.
Competitions are also cheaper than running generic lead generation campaigns, especially if your business is in its early stages and you don't have a large advertising budget.
Tying prizes into business objectives
While any type of giveaway or competition can attract new sign-ups, it's not always ideal to cast your net so wide that you end up with a list full of irrelevant contacts.
Therefore, it's usually a good idea to choose competition prizes and giveaways relevant to your brand, so that the audience you attract is as targeted as possible. Giving away products from your store is a great start.
Include a referral system
Have you ever been included in a 'tag your friend' competition or promotion? This popular and effective tactic is known as a referral viral system, where entrants are encouraged to tag multiple friends and family members to increase their chances of winning a prize or being rewarded with a discount or free product. The more people they tag, the larger your potential audience list.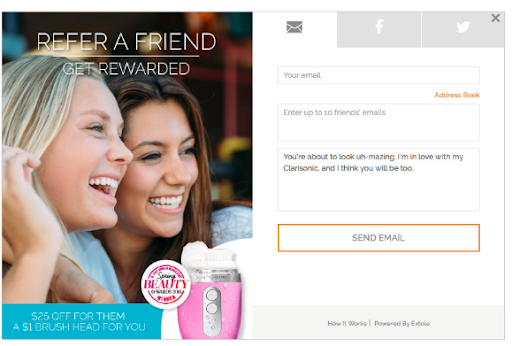 The 6 steps of setting up a competition:
If you're ready to set up your own competition or giveaway here are the steps you need to get started.
Step 1: Plan your contest
Step 2: Choose your contest prizes
Step 3: Build your contest and choose a catchy headline and compelling images
Step 4: Don't forget to include terms and conditions
Step 5: Make sure you show a visual representation of the prize
Step 6: Promote your contest through paid or organic social media marketing
Newsletters
Newsletters are a powerful tool for growing and nurturing your customer database. Not only do they allow you to communicate with your customers in a personalised way, but they also allow you to send quality content that helps inspire them to purchase with you.
Creating great content people love doesn't have to be difficult. If you're not sure where to start, showcase feature products from your store, give tips and tricks on how to get the best out of your products, and find opportunities to cross-sell.
If you're comfortable with writing, a blog covering topics that are relevant to your business can become a product in itself. Your database will start sharing your content and seeing your brand as a leading voice in your industry.
For example, if your Shopify store sells pet accessories, you could write a blog that covers all areas of pet ownership and care. From top grooming tips, the latest breed information to nutrition. Rather than limiting yourself to pet accessories, your content will appeal to all sorts of pet owners, no matter if they're currently in the market for accessories or not. When they are ready to purchase an accessory, your store has a much higher chance of being included in their consideration set. This type of marketing is known as content marketing and is by brands as prominent as Coca-Cola, through to small businesses who are just starting to make a name for themselves. Check out some of the great content eCommerce brands are creating here.
Tips for your writing your own newsletter and blog content:
Come up with a format and topic that interests you
Write for your audience
Write how you talk
Pick a frequency that you can stick to but be consistent
Lookbooks / Inspiration
The purpose of a lookbook is to create a professional and stylised showcase of your products that will capture the attention of consumers. Lookbooks should tell the 'story' of your brand to be shared on social media, your website and in your newsletter or email marketing.
Using high-quality images, a lookbook should sell consumers on the lifestyle that comes with their purchase, rather than just the products themselves. For example, if your Shopify store sells adventure wear, your lookbook could have models doing activities in the great outdoors. The aesthetic of the models that you choose, lighting and editing all contribute to telling the story of your brand. Are you moody? Fun and flirty? Professional? Make sure that you're consistent across your website and your lookbook so that the same story is being told throughout.
Shopify has easy-to-use plugins and even some themes with a lookbook template embedded, such as the Vogue theme below.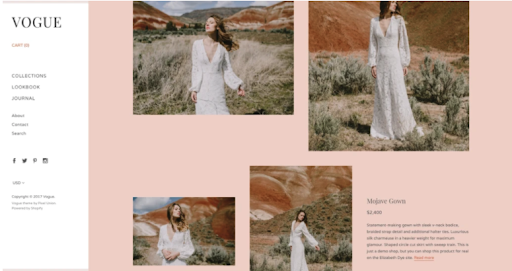 Email marketing
Email marketing is arguably the most effective form of marketing. For the last ten years, email has generated the highest ROI for marketers. For every $1 spent, email marketing generates $38 in ROI and gives marketers the broadest reach of all the channels available to them.
However, if you're starting a new Shopify store, the challenge is building a subscriber database when one does not exist. Once you've used tactics like competitions, giveaways and newsletters, a customer experience platform such as ActiveCampaign are recommended because it can help to manage, automate and optimise email marketing campaigns.
The benefits of using a tool like ActiveCampaign for your email marketing include:
Streamlining workflow as it's a complete customer relationship management (CRM) and email marketing automation tool.
You can segment your subscribers with 'tags' so that you can send them emails that are focused on their needs based on how they've interacted with your communications in the past (segmented campaigns increase ROI by 77%)
Because your emails will be more targeted and therefore valuable to your database, it's a cost-effective way of approaching your email marketing.
You can easily integrate with other marketing tools your Shopify store may need, such as PayPal, eBay and SMS.
While a tool like ActiveCampaign will make managing your email marketing simpler, you'll still need to create your own strategy around the frequency, format, and if and when you should include discounts. How detailed will your email triggers need to be? This article demonstrates how eCommerce brand Birchbox approaches its email marketing sequences. You'll see how a strong first impression and quality creative can make customers excited to receive your emails, rather than send them straight to the trash folder.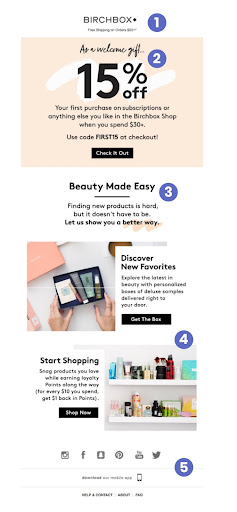 Let's have a closer look at the different types of emails you can send in your email marketing campaigns:
Shopping cart abandonment emails
Earlier in this guide, we discussed the massive difficulties eCommerce faces from shopping cart abandonment—costing brands $18 billion a year in lost sales revenue. One effective solution for addressing shopping cart abandonment is follow-up emails that prompt them to complete the purchase. Shopify reports that nearly 50% of abandoned cart emails that are sent are opened by consumers, with a third of those clicks leading the purchaser back to the website.
As well as getting consumers back to your website, cart abandonment emails can serve a secondary purpose. They're a great opportunity to reintroduce the customer to your brand. If your copy is compelling, and you've included an attention-grabbing subject line and strong images, your email can serve as a welcome email to an already warm lead.
Reengagement emails
On average, 66% of your email list will become inactive over time. If you're not finding ways to re-engage with inactive subscribers, it's a significant missed opportunity. Re-engagement emails are a great way to win back customers who've gone quiet. But the challenge is in grabbing their attention. Targeted promotions, incentives, discounts or personalised copy such as "We miss you, Sarah!" are great ways to get subscribers to interact with your brand again without being too pushy.
High-end women's apparel brand Kate Spade cleverly blamed Gmail's email sorting algorithm for the lack of engagement from consumers, as you can see from this re-engagement campaign calling for subscribers to move the brand from 'Promotions' to the highly coveted 'Primary' inbox.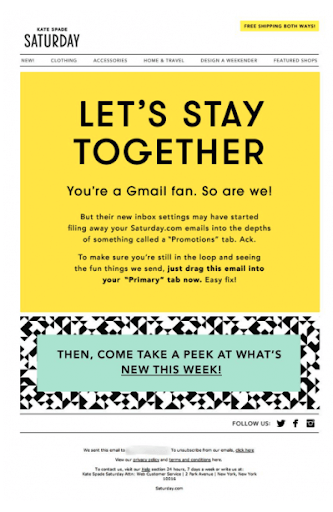 Organic social media
The effectiveness of organic social media marketing for eCommerce is questionable. Yes, it's important to have one or multiple channels for your audience to reach you, but one of the biggest mistakes that new eCommerce businesses make is wasting precious hours trying to build their social followers rather than focusing on growing their business.
That being said, there are certain industries that require a well-thought-out social strategy. If you're selling fashion apparel, for instance, having a well-curated Instagram page is essential.
When you're starting any new business, time is precious. Because consumers will search for your brand and expect to see a social page to prove your legitimacy, having at least one for them to discover is important, but don't spend time creating and managing multiple profiles if the ROI doesn't justify the time you could spend packing and shipping goods, providing customer service and marketing your existing products.
If social media is essential for your business, make sure you return to the research you did on audience personas in the early stages of your business strategy to understand where they are spending their time. Facebook and Instagram are most likely where you will start out. As a new store, always limit your organic social to 1-2 channels that reach your audience where they actually spend time.
Influencer marketing
By now, we all know what influencer marketing is. For years it's been climbing the ranks as the fastest growing form of digital marketing, with brands throwing significant budget towards influencers over more traditional advertising tactics. What this has resulted in is an oversaturated market that has diluted the effectiveness of influencers and cost businesses 1.3 billion a year in influencer fraud.
Creating engagement through mega-influencers has become increasingly difficult. Consumers are savvy to influencer advertising and are looking for more authentic personalities they can relate to. What this means, is that in today's market you don't have to be a Kardashian to make an influence.
We're now seeing the rise of 'nano' and 'micro-influencers'—regular social media users with as little as 500-10,000 followers who have a more engaged follower base than the larger personalities. These smaller influencers are a great opportunity for eCommerce sites that are just getting started and don't have the budget for big-name influencers. As well as having genuine influence over their audience, nano and micro-influencers are easy to find and connect with.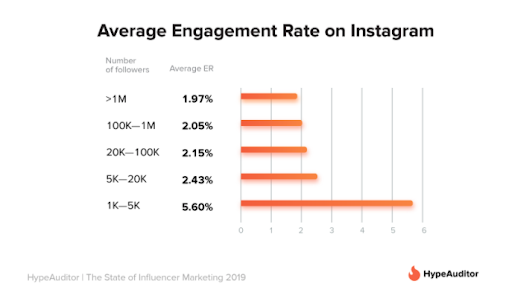 Platforms like Tribe are online marketplace designed to help you connect with the right influencers for your industry. But you can also simply reach out to influencers you think are a good fit with your brand, directly.
SEO
SEO is a big topic in and of itself, and in many ways, the tactics we've already covered all contribute to your SEO strategy. However, there are some simple strategies that you can implement that can take you a long way.
Product titles
Your product titles are arguably the most important element of your feed. They communicate to your customers and Google what your product is, so that they're fed the right product to match their search intent. For a great product title, keep it within the 150-character limit and make sure it includes:
Product name
Your most important keyword
Model number (if applicable)
Size (if applicable)
Any other important information
Remember that Google always prioritises the first words in your title, so make sure you structure your title so that the most important information goes first.
Weak title: Impala Skateboard
Good title: Impala Saturn Skateboard 8.35" Robin Eisenberg Space
 The example below takes the coveted first spot on Google for the search 'impala saturn skateboard'

Ensure your product descriptions are correct
While your product description isn't visible on the main Google search page, it's still scanned by Google for relevance to your product, so it's important to make one that's short, includes keywords and is descriptive and easy for Google to read.
Google product category
Google comes with their own set of product categories to choose from. Make sure that you choose the closest fit to your products so that Google understands what you're selling. Rather than just choosing an overarching product category, try to narrow it down. For example, instead of choosing 'Sporting Equipment' to sell skateboard apparel from your Shopify store, you could narrow it down to Garments and Apparel > Streetwear > Skate T-shirt
Image/price/product details
While your product description and headline are the most important considerations for Google's bots, when it comes to influencing human consumers to buy your products, your images and price are going to play the most important role in drawing their attention and closing the sale. Make sure your product photos can be cropped to thumbnail size without losing any of their details, that your prices are competitive and that your product details include all technical specifications that weren't important enough to include in your headline or product description.
Google shopping ads
Since launching in 2012, Shopping ads on Google have consistently delivered some of the highest ROI on any paid channel. In fact, Google Shopping ads now drive 76.4% of retail search ad spend and win 85% of all clicks.
One of the benefits of Shopify is that it connects relatively easily to your website. All you need to get started is a Google ads account, a Google Merchant Account and a way to connect your product feed to the Google Merchant centre. Shopify provides a great guide that will show you how to set up the Google channel to sync to your products.
However, syncing your products is only one piece of the puzzle. It's also essential that your product feed is optimised, to ensure that your product shows for your desired keywords.
Facebook ads
With over 15 million active users, there are more chances that you'll reach your target audience through Facebook than any other platform. Knowing where to spend your valuable marketing budget—especially in the early days of your Shopify store—is essential. And this makes Facebook the ideal channel for reaching your ideal audience based on their interests and behaviours, so that you can save time and optimise ad delivery.
The Facebook ads platform is valuable to e-commerce stores because it provides incredible ways to help you pinpoint that target audience.
You can serve ads to users in a variety of ways:
Audience matching using subscriber lists
Custom audiences
Location-based targeting
Demographic-based targeting
Interest-based targeting
Behaviour-based targeting
Lookalike audiences
Retargeting
Important considerations for your Facebook ads strategy
Before you jump into creating a stellar Facebook ads strategy there are important considerations to understand before getting started. If you're brand new to Facebook ads, it's advisable to enrol in a learning course such as Facebook's Media Planning and Buying Course.
Learn more about:
Cost per acquisition
The lifetime value of a customer
Understanding buyer profiles
Be able to define different campaign objectives
Tips on how to create great Facebook Ads that stand out
Setting up Facebook ads is relatively easy. Creating Facebook ads that stop a consumer in the middle of a mindless scrolling session is not—which is why larger eCommerce businesses can have entire teams dedicated just to Facebook ads.
Even if you've nailed your audience segmentation and targeting, there's an art to creating ads that stand out from your competitors, and drive your audience to take action.
That said, there are some basic tips and tricks that anyone can try to get started. Here's how you can create great Facebook ads that stand out and sell your products.
Include a clear CTA
If you're just starting out, don't overcomplicate Facebook ads by trying to marry brand awareness and direct response into the one ad. Especially when you're an unknown store, you need clear CTAs with a well-defined goal— getting an audience to buy your product as quickly as possible.
Be conversational (especially in your headline)
While your CTA should inspire action with a clear and persuasive sales incentive, your Facebook ads headlines work best when they ignite a conversation with your audience. Whether it's clever and witty or just a description of your product or service, when you understand your audience and can write copy that speaks directly to them and their pain points, your brand becomes a trustworthy friend who understands their language and needs.
Demonstrate your product
Rather than a static image of your product as your customers see it on your website, use your Facebook ads to demonstrate how people benefit from your products. Short videos or even .gifs are great for showcasing movement and your products in action, but even static photos can tell a great story—especially if you choose the Facebook carousel ads format that gives people the option of what they want to see.
Use a tool like Canva or BannerSnap
Programs like Canva and Creatopy make creating professional and eye-catching ads easier than ever. You can choose predetermined templates that are simple in layout, and easily personalise colors and concepts to fit your specific branding and audience. Such as this Facebook ads template from Canva, below: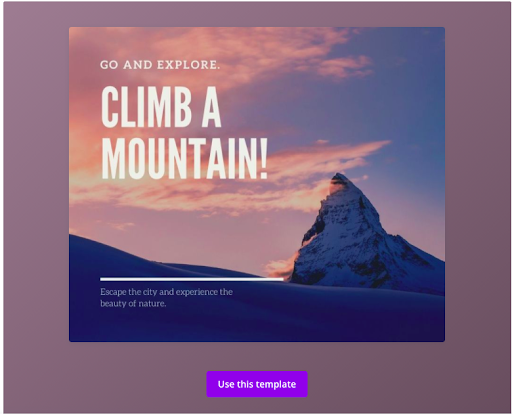 How to grow your brand
Now that you have the basics of Shopify store promotion it's time to think about growing your brand. All the hard work you've put into optimising and promoting your store should be starting to pay off and you're hopefully seeing highly targeted consumers finding their way to you. Here's how you can take your great foundation and take your brand to the next level.
Mass marketing
Mass marketing is the process of promoting your products to the largest possible audience. Instead of focussing on targeted segments, you cast a wide net in the hope of covering all your potential buyers, while also facilitating a broader exposure of your products. E.g rather than advertising one particular product, your focus is on advertising your brand.
If you're trying to grow your brand, mass marketing is the best way to do it. Think TV, radio and outdoor print advertising.
However, these are also the most expensive types of advertising.
If you're ready to scale up to this type of marketing there are digital ways you can get there that are much more cost-effective.
Spotify
Music streaming and Spotify have gradually become one of the hidden treasures that can strengthen your digital strategy.
You can use Shopify to market your business in the following ways:
Audio ads
Video ads
Display ads
Sponsored playlists
Brand podcasts
Organic playlists
The benefits of Spotify as an advertising platform include:
The ability to deep dive into audience insight data
Spotify's streaming intelligence allows for personalisation—meaning you'll get the right message to the right audience, at the right time.
Research tells us that about 60% of podcast listeners research a product after hearing an ad
Audio streaming is not yet a saturated market, meaning there's greater advertising potential for early adopters
Shopping centre ads
Purchasing shopping centre advertising sounds complicated, but it's actually much simpler than you'd think. Today, shopping centre ads can be purchased programmatically through an app known as a DSP. A DSP or Demand Side Platform is a software system that allows brands and agencies to purchase and manage multiple advertising inventories through a single unified interface. Essentially, you can bid on ads through real-time auctions based on criteria that you dictate.
YouTube and Catch-up TV
With YouTube receiving over 30 million visitors per day, there is no question it's a powerful tool for branding and marketing. However, unlike Facebook and other forms of advertising, you only pay for a view if the user passes the 30-second mark or watches the entire video. There are a few ways you can advertise through YouTube:
Non-skippable ads
YouTube display ads
YouTube overlay ads
YouTube mid-roll ads
YouTube sponsored cards
If you're ready to start building a brand through YouTube or Catch-up TV (CTV) there are certain considerations you need to take into account:
You'll need to test different ad formats to find the most effective for your brand
Always transcribe your ads to upload with your video. This helps Google rank your content for the right topics
You'll need to find creative ways to include subscribe buttons and CTAs
Like Facebook, YouTube has a tool for advertisers to find and target a highly relevant audience
The biggest consideration for YouTube and CTV advertising is that in general, people don't like it when something interrupts their viewing experience. This means that more so than any other form of advertising, you need to make sure your ad provides value to your audience. This can be difficult to pull off if you don't have a lot of experience. But content like short instructional videos, highly polished production or humour can all help to engage an audience rather than turning them off your brand.
If you can get YouTube or CTV advertising right, the payoff can be worth your effort. YouTube is the world's second-largest search engine with over 1 billion hours of YouTube video content consumed each day. In the third quarter of 2020 alone, YouTube generated over $5 billion in revenue for its advertisers.
The roundup
Building a profitable Shopify store isn't as simple as choosing some great products and hoping they'll sell. But with the right strategy, a strong brand and a proactive approach to promotions, you too can find success in a global eCommerce industry that's set to hit a staggering $4.97 trillion by the end of 2021.
latest articles